Mac systems are considered one of the most features of rich & durable computer systems. But sometimes the user may face some hardware related issues in their Macs. Apart from many other exciting features, macOS has the functionality of enabling users to diagnose the Mac system by running the Apple Hardware Test on it.
In this blog post today, we are going to discuss how to use the Apple Hardware Test on Mac, and a detailed tutorial can be accessed here as a guide. So if you are wondering how to use this test, you are on the right post. So let's see how to use the Apple Hardware Test on your Mac…
Apple hardware test online
Sometimes you cannot test your Apple hardware without the active internet connectivity. In such cases, all you need to do is to follow the steps as given below, along with having an active internet connection:
Turn off your Mac
Next disconnect all the external devices except keyboard, mouse, power cable, display or any wired network connection
Now turn on the Mac and immediately hold down the option + D key together
When the hardware diagnostic tool appears on your screen, release the keys
Choose the language
In case of an older version of Apple Hardware test, you need to press key T to start the testing process
Once the testing begins, you can see the result on your screen very conveniently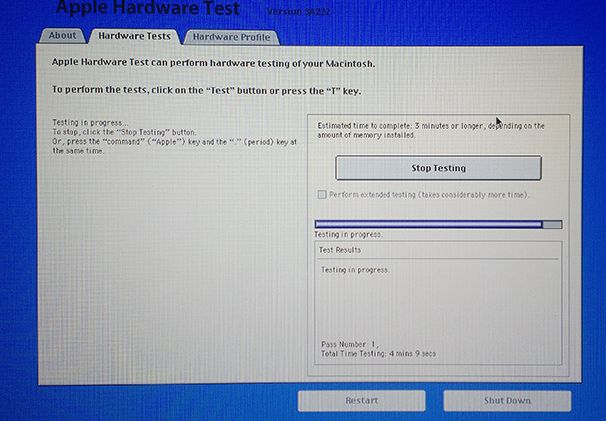 Apple hardware test not working
If holding down the keys, as mentioned above, doesn't start the Apple Hardware diagnostic tool. Then either your older Apple doesn't possess this feature, or your disk is damaged. You may also receive battery error codes indicating that it needs to be replaced.
Apple Hardware test may fail when the key D doesn't work for your system. It usually happens when you update your operating system and the. The diagnostic folder is lost. You can get it back on your order, which in turn enable the system to boost hardware diagnostic tool with key D.
Apple hardware test error codes
Let us peek into the Apple Hardware test error codes and interpret their meaning…
It means no errors were detected, and everything is okay.
No serial number is detected.
Audio hardware might be problematic.
It means the battery is not detected.
GPU is somewhat problematic
It means that there might be some issues in the CPU
It interprets that there could be some problem with computer memory
It means that there is a possibility of some issues in the firmware.
It is possible that there could be some issues in the USB hardware. It is very crucial to disconnect all the USB connection initially.
Other Apple Hardware Error codes: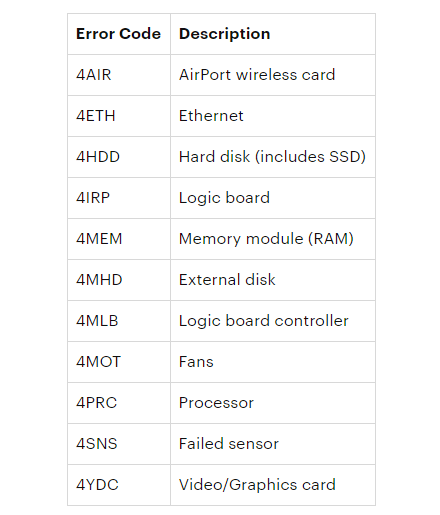 Apple hardware test iphone
If you are wondering how to check your iPhone hardware then here are some approaches by which you can perform the same:
Approach 1: Diagnostic Software
This approach works best for the people seeking bulk iPhone hardware diagnoses like an enterprise selling or buying iPhones. Diagnostic software like PhoneCheck can be used to make the Apple Hardware diagnosis without any extra effort. It can test dozens of checkpoints, including hardware, network, signal strength, and much more. In addition to that, the best part about the diagnostic softwares is that it provides you with the certification print out. It helps the users interpret the system's health vividly.
Approach 2: Customer Support
If you are an iPhone 10 user, then seeking the Apple Customer support is all you can do. The genius Apple customer service helps you with the hardware diagnosis. All you need to do is to go to diagnostic.apple.com. Next, the customer support representative will give you a ticket number that you will type in an appropriate box of the phone. Once the process is finished, you are good to go.
Approach 3: Remote Testing
Every mobile phone has an IMEI (International Mobile Equipment Identity), a 15-digit number, which is a social security number. Remote Testing is an approach that can be done just by knowing the device's IMEI number. This Remote Testing can be done anytime, anywhere, and even in the absence of the mobile phone. Hence it can be considered as one of the most reliable methods of Apple Hardware diagnosis.
Also Read Related Posts:
What does the Apple Hardware Test check?
Apple Hardware Test diagnoses and checks the entire health of a computer's hardware components. It displays some error code that interprets the problematic area. It facilitates the users to detect the problem areas so that they can proceed to rectify it efficiently.
Some of the standard error codes, along with their meanings, are given below:
4HDD – Issue related to hard disk (SSD included)
4IRP – Logic Board
4ETH – Ethernet issue
4MLB – Logic board controller issue
4YDC – Video/Graphics card causing problems
4PRC – Processer related problem
4MOT – Fans related issues
4SNS – Failed sensor
4MHD – External Disk connected error
4MEM – Memory module (means RAM)
4AIR – AirPort wireless card error
How do I run a hardware diagnostic on my Mac?
You can run a hardware diagnostic on your Mac very quickly by either opting out the approaches, as explained before in this article. Otherwise, you can also try out some third-party tools available in the market. Such a diagnostic tool is easy to use and gives accurate results as well.
Follow the easy steps as given below to run a hardware diagnostic on a Mac:
First of all turn off your Mac
Next press the power button and then immediately depress the key D
Keep holding the key until you are asked to choose a language
After selecting the word, you might be asked to get connected to an internet connection.
Now the diagnosis process will start and display the entire system health report in the form of error codes.
You can easily interpret these codes to know the entire health of your Mac.
How long does Apple hardware test take?
If you are wondering how much time does it take for an Apple Hardware Test to get completed. Well, it hardly takes around 5 minutes or so. Therefore if you are suffering from any rare hardware issue related to your system, don't hesitate for this test. Only for it and get to know the exact problematic area points to rectify later.
How do I check the health of my Mac?
The Apple Hardware Test is a diagnostic test that helps you check the entire hardware health of a Mac system. But if you are willing to check the mac as whole system health, then you should prefer to use diagnostic software. Speaking of which, it is essential to mention that a diagnostic software scans the entire system and displays a complete health report of your order.