In this era, people are using the phone for everything, be it railway registration, bill payments, picture editing, reading news, playing games, talking, or chatting, we can also set the alarm and look through the calendar in a phone. Some people love music and also make music on their phone. So, people nowadays don't prefer to carry portable audio player. So if you prefer your music collection rather than, then here are top 10 Music Player for Android that you can use in 2018.
Also Read: Best Antivirus for Android
Best Music Player for Android
You can easily download and install these best Android Music Players from Google Play Store for free. Such apps come with in-app purchase for some advanced features like Lyrics Sync and music search.
1. Phonograph Music Player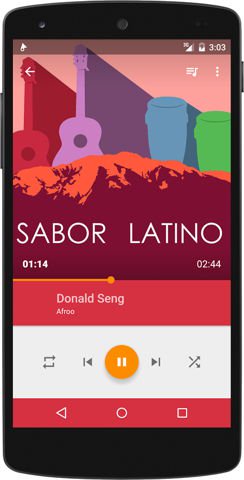 This Music Player has a material design. This app has three themes, and you can change this theme anytime from settings- Light, Dark, and Black, you can also change the primary and accent color of the app. It is easy to Navigate and use because it has unclustered user interface. With this app, you will get last.fm integration, home screen, tag editor, sleep timer and lock screen playback.
2. Stellio Music Player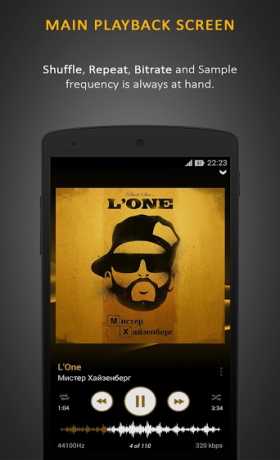 This app has many features. It supports all the audio formats along with .mb4, .flac, .ogg and other audio formats too. This app has 12-bands equalizer and has 13 audio effects. This app supports cross-fade, gapless playback, sleep timer, offline lyrics, last.fm scrobbling and tag editing. The best thing about this is that you can also control this app through your smartwatch. The best feature of Stellio app is that the Player's thing changes according to the album cover of last played song. Every time you go to next track, the player's theme cover changes. Stellio has five themes; two are free, and for other three you have to spend some cash. The Flat, and material theme is free. You can get rid of ads by downloading premium version.
3. BlackPlayer Music Player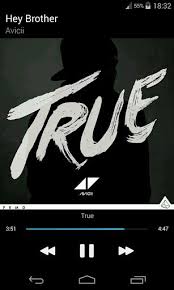 BlackPlayer app is black and bold, It has minimalistic design and at the same time has some rich features.
This app has an inbuilt equalizer, bass boost, and virtualizer. As fas as Customization is concerned, you can pretty much Customize Everything. BlackPlayer Android Player lets you change accent color, font, and look and fell of now playing screen. It supports all common audio formats, crossfade, gapless playback, sleep timer, scrobbling, tab editing and homescreen widgets. Black player Music Player has no ads but also has the premium version, named, BlackPlayer EX, with more features, customizations, and themes.
Also Read: Best Ad Blocker for Android
4. Poweramp Music Player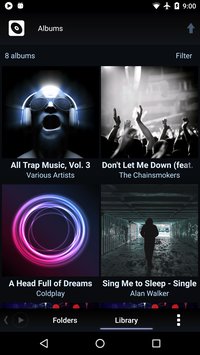 PowerAMP Music Player for Android is the most powerful amongst other Android music players. It has ten bands optimized graphical equalizer and separate bass and treble adjuster, On top of that it also supports free Stereo Expansion and mono balancing. It plays all popular audio formats, supports crossfade, gapless playback, replay gain, scrobbling, tag editing, lyrics, and .cue files. The main USP of Poweramp is its customizable skins. You can choose from a good skin available in a play store and give a new look and feel to the player. Poweramp Music Player is paid app, but you can try it for free until 15 days.
5. Pulsar Music Player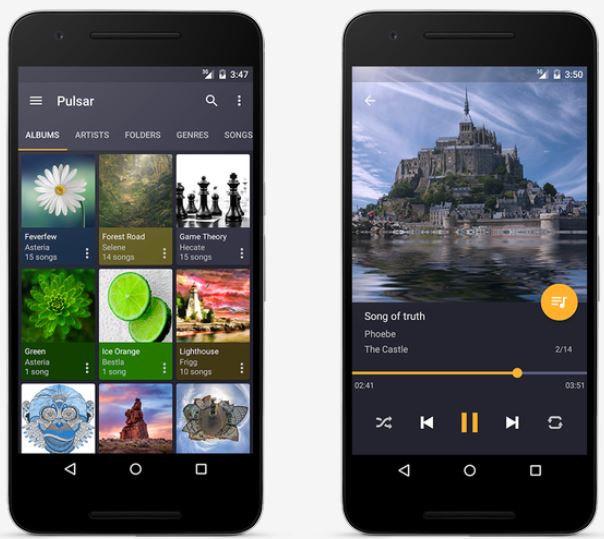 This app is easy-to-use, tiny and has all the things a Music Player should have. It offers Gapless Playback, Chromecast support, last.fm Scrobbling, tag editing, and various colorful themes. This app helps you arrange tab items on the main screen as per your choice. A tiny but significant thing It has features like equalizer, bass boost, home screen widget and sleep timer. Pulsar plays standard audio files like aac, flac, ogg, etc. and it automatically downloads all missing artist images and artworks. It has intuitive user interface feature, and other basic features make it worth downloading. This app is free with no ads, and also has the premium version, Pulsar Music Player Pro.
6. n7 Music Player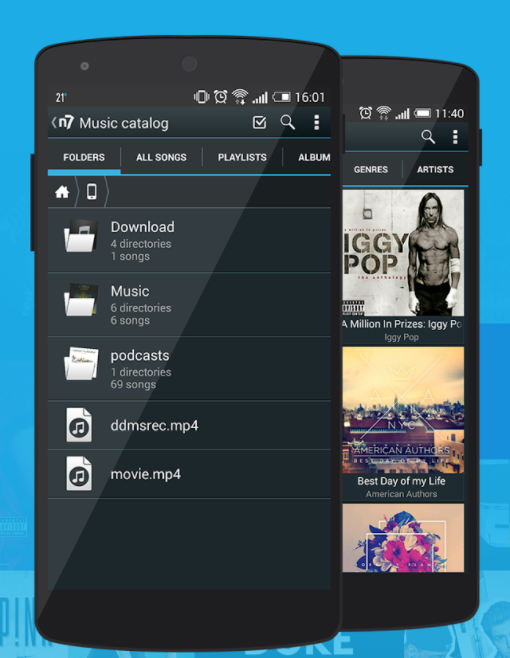 n7 Music Player is different from all the other apps. On the main page, instead of showing song's name, it shows the name of the artist in a giant collage styled way. Zooming on a particular artist will reveal the artist's album artwork while tapping on which will take you to the Album's track. The developer calls it Artist Tag Surface.
This app has 10-band equalizer, bass and treble controller, auto volume normalization and stereo balancing. Other features include gapless playback, crossfade, scrobbling and sleep timer.There are two separate apps by the same developer, which integrate well with the n7 player. First is BLW Visualizer wallpaper, which is a live wallpaper with music visualizer. Another one is Toaster Coast, which lets you stream your music to external devices through ChromeCast and AirPlay. n7 Android Music Player app is free for first two weeks, and after that, you have to pay to use features like equalizer, sound effects, theme, and editor.
7. MusixMatch Lyrics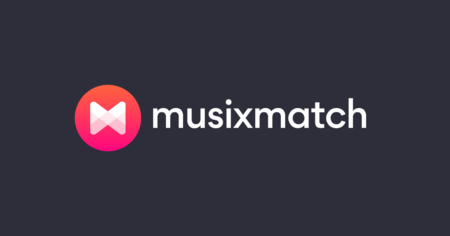 MusixMatch Player is more than just an app, it has the widest collection of song's lyrics Lyrics was, and still is, the main USP of this app but the app has grown itself to become the full-fledged Android Music layer. Regarding customization, this app lacks behind from others, but there are some features which might not be found in other apps, and that makes MusixMatch app worth downloading. Some notable features of this app are Floating lyrics, Music Identification, Music Translation, Lyrics Card and more. This app sends you a notification whenever lyrics of your favorite artist is available. This is a free ad-supported app. You can remove ads by Purchasing the premium version of an app which unlocks offline lyrics.
8. Shuttle Music Player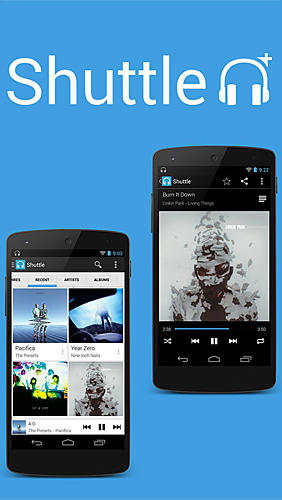 Shuttle Music Player for Android has very neat and uncluttered user interface. It has 6-band equalizer, along with presets and bass boost. There are three themes-Light, black and dark. It also helps you choose from a variety of theme colors and accent colors, according to your style. Shuttle Player also has a shuttle to make work it smooth and without any hotchpotch. It is the free app but also has paid version for extra features like tag editing and Chromecast Support.
9. Autobeat Music Player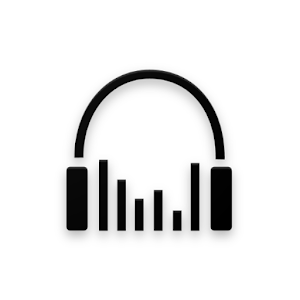 Autobeat app is new and is still in beta version. It has some exciting features.Autobeat – best Music Player for Android has five band equalizer with ten presets, lossless codec support and ChromeCast support. It gives you a good number of Customization; you can customize background color, accent color, font color, of every background of the app. There is a unique feature which takes you from audio to video (youtube)
10. Pi Music Player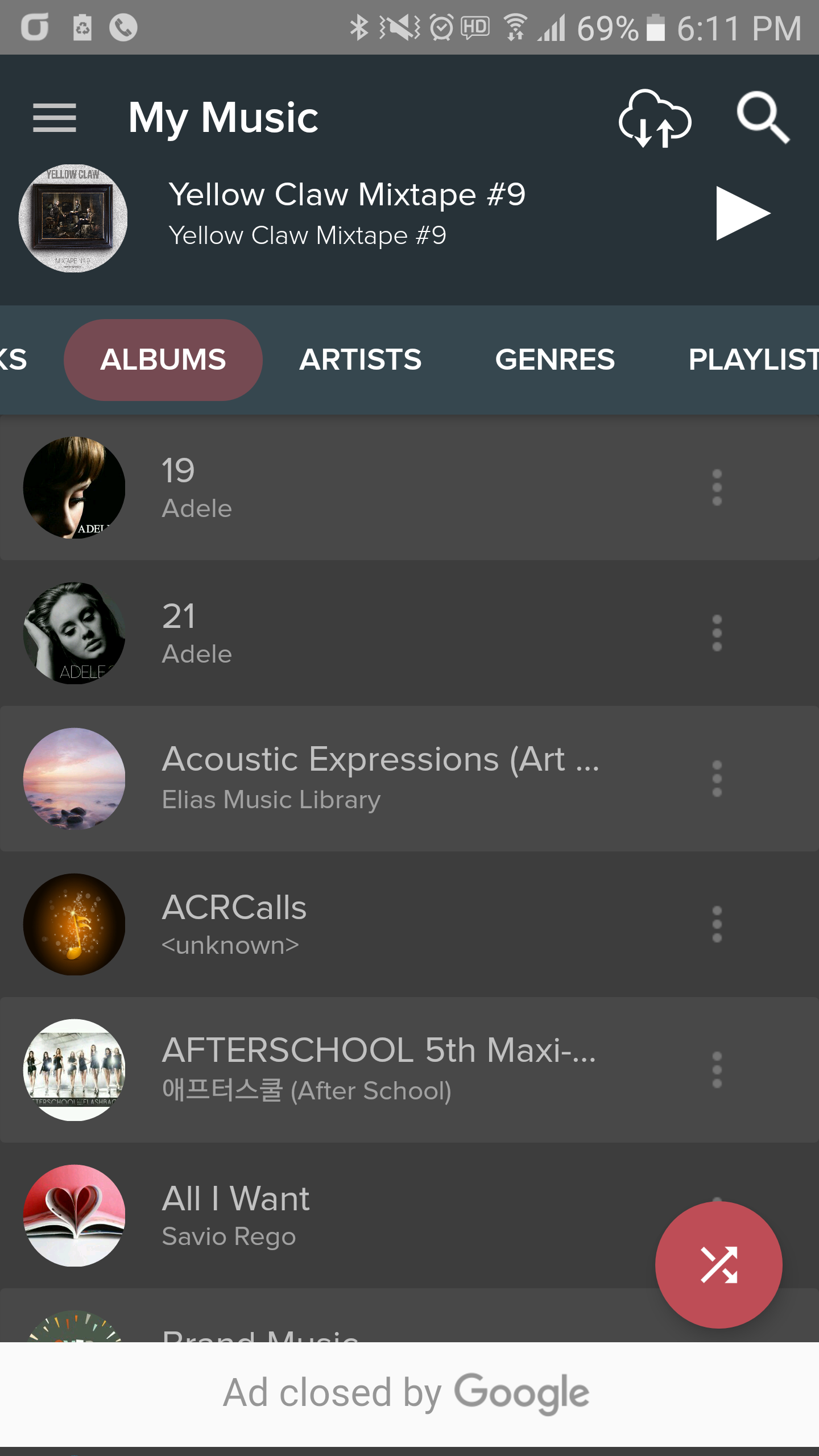 This is most highly rated Music App for Android users. Regarding design, it is rated the highest. What attracts the most is its material design and swift animation, and its user interface is intuitive too. The best thing is it has inbuilt ringtone cutter. It has 5-band equalizer with ten presets, virtualizer, bass boost, and 3D reverb effect. So here are ten best Music Best Player you can use according to your convenient.