Snapchat is an amusing & well-liked messaging app which rules over the hearts of many juveniles in the current times. It is a popular social networking platform that allows users to talk with and share photos and videos with your friends and family. You can add various filters or lens on the images and videos and beautify it using suitable caption or doodles. It also offers funny selfie filters & location-sensitive stickers to embellish the prettiness of your snap. The highlighting factor of this app is- the snaps or videos uploaded by a user lingers on a temporary basis. Yes, you heard it right! Snapchat facilitates easy sharing of photos and videos that last only for a rationed time, which means, the photos which you remit to others could be seen for a while viz. only 10 seconds. Although, the recipient may store your snap by taking its screenshot.
How to Deactivate Snapchat Account
Unquestionably, Snapchat has too much to offer, and an excess of something makes one addictive. That's why many of us are switching to quit this platform for a while. But how is the question? So, here, in this article, we present you the quickest and simplest answers to deactivate a Snapchat account or how to delete Snapchat account android or how to deactivate Snapchat account temporarily.
To deactivate Snapchat account permanently, just follow the below mentioned ways: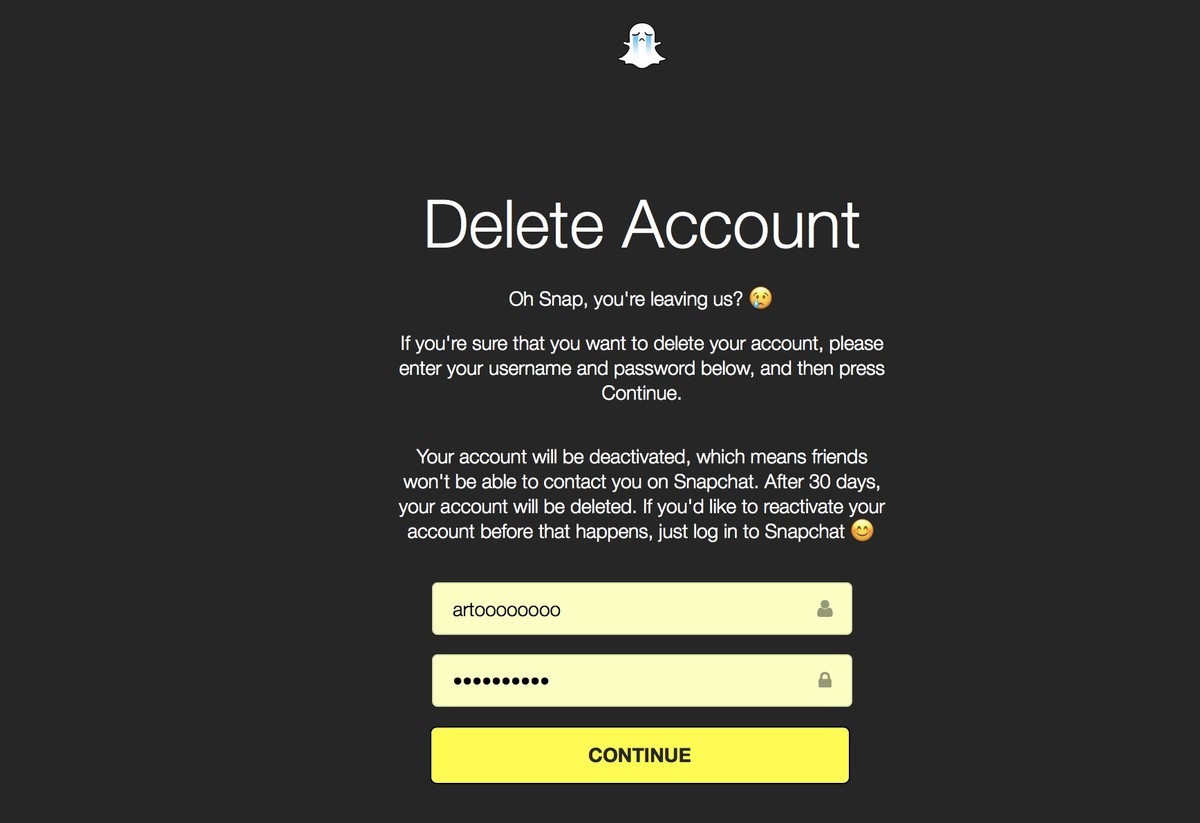 Using any web browser, say Google Chrome, Firefox or Safari on your iPhone, visit this link: support.snapchat.com/delete-account.
Thereby, you'll get a login page where you need to enter your Snapchat username and password.
After entering the password, check the box, confirming I am not a reboot.
Click Log in. It will take you to 'manage my account' screen.
Select 'DELETE MY ACCOUNT.'
Again, enter your Snapchat username and password.
Finally, tap DELETE ACCOUNT.
This is how you can permanently delete your Snapchat account and live a Snap free life..!!
How to reactivate Snapchat account after deleting it permanently.. ??
Did you just permanently delete your Snapchat account or deactivate Snapchat account & want to revive it back? Then, you are at right place. It's quite trouble-free to reactivate Snapchat and continue messaging & snapping your friends. But, the sole trouble here is that you cannot reactivate your previously deleted account if you have crossed 30 days from deactivating it! Once you have passed 30 days from the time when the account has been deleted, you cannot sign in back with the old account. But you can surely do one thing and i.e. create new Snapchat account & can re-enjoy sending pictures and videos to your dear ones.
But, if you are in love with your old username and wishes to use the same to relive SnapChat then, to Snapchat can help you but only within 30 days of deactivation! Now just log in with the same/old username and password retrieve your erased account. To simplify it further, here is to do list: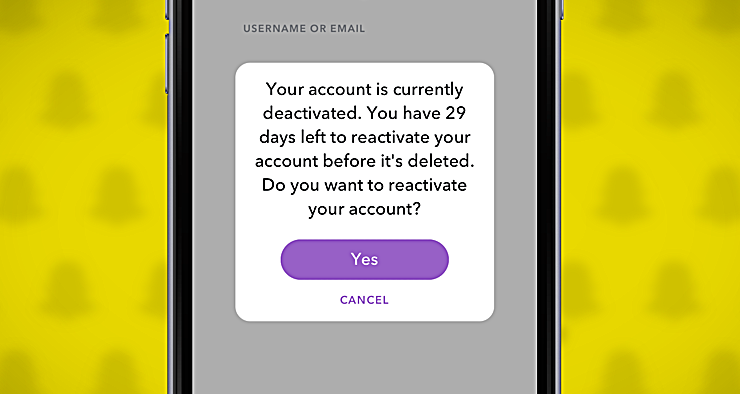 Open the Snapchat application in your device whether mobile phone or PC.
Enter your old Snapchat credentials i.e. username and password.
Further, Snapchat would ask if you'd like to reactivate your account, Press 'OK' to confirm.
Once, your account is reactivated by Snapchat, it shall send you an email on your registered ID.
Now, you can log in the app and enjoy nattering!!
How to delete Snapchat messages and stories??
Sometimes, it's not the app that annoys, but too many messages and updates make account messy and disorganized. This is the most common reason why people prefer to strike out the application itself. But, maybe you just need to sort your stuff. If you are one such case, then I recommend you to systemize the messages and stories in Snapchat using following approaches.
How to delete Snapchat messages permanently:
The best part about Snapchat is its self-deleting feature. Rather, it is the USP of this app that whatever you share or send to the world as a whole, it gets self-deleted after it has been viewed by the people connected to you. Especially, when one wishes to share any sensitive information, messages or photos, and videos, nothing is retained by the application for long, and it gets vanishes away in no time. But, what, when accidentally you shared something with the wrong person or something wrong shared to the right person? So, instead of screaming OHH S#!T, only clear off the history from your main inbox screen, using the following way:

Open your profile picture screen and click on 'Settings' icon given at the top right-hand corner.
Under Accounts section, tap on 'Clear conversations.'
If you want to delete individual chat, hit 'X' next to the names of the sender.
If you want to explain all conversations, press on 'Clear all' flashing at the top right side of the screen.
This way you can simply clear off any individual messages or all the messages from the main inbox of the screen. Though, the messages threads deleted by you will be unaffected in the inboxes of the recipients, if they have chosen to save it. Also, any stuff sent by you or saved by you shall remain intact on your device.
How to Delete Snapchat Story??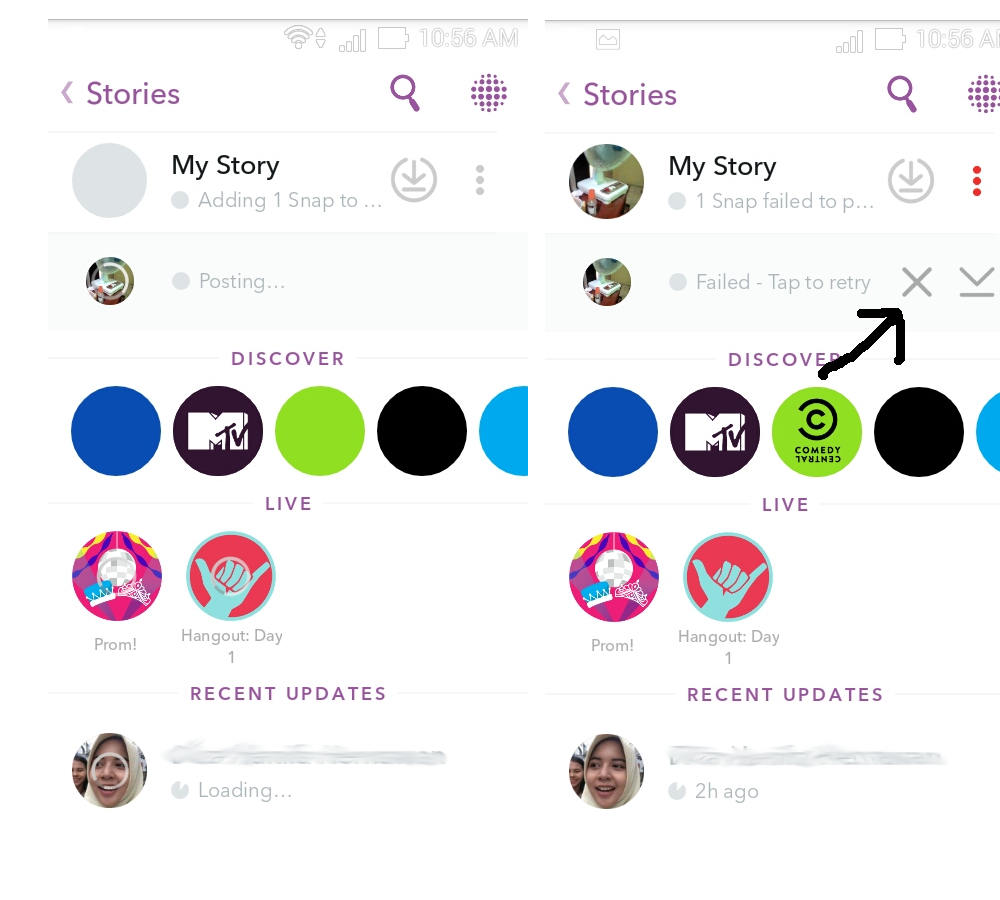 Snapchat story is a unique way of presenting pictures in an important & chronological manner. It allows the user to share their collection of photos in one roll, which makes a long Snapchat story. The distinctive feature of a story other than regular uploads is that it disappears after 24 hours from posting. So, snap stories are fun to play with as you can upload your quick and short term moments that won't last long. Also, you can add videos to your story to make it available for a limited period. But, the stories get worse, when you accidentally upload a snap or a video which you shouldn't have or maybe later you feel silly after sharing a picture of your own or a friend. In such situations, Snapchat rescues you by deleting one of the snaps from your story or clearing an entire story as a whole. You just need to do this:
Open Snapchat on your android or iOS device.
To open the screen containing your story, Swipe right in the display.
You'll notice your name next to the story posted by you. Click on your name and all the snaps uploaded in your stories shall become visible.
To delete a single picture from your story, Tap on the desired image.
On the right side of the picture, you'd find an icon 'X,' Press on X to delete or eliminate the selected image forever.
Similarly, you can repeat the same for other snaps too, if you wish to take away all the pictures from the sight of others, by removing them permanently.
So this is how we can delete any story or snaps from Snapchat permanently.
This is how you'll be able to get rid of unwanted and accidental upload of pictures or videos in your Snapchat story permanently. Nevertheless, if you want to keep a copy of such images in your device, simply click on an icon with down arrow and a line under it, to save the story before deleting it eternally.
Here, we wrap up our post with solutions to various Snapchat related queries like how to deactivate Snapchat account android, permanently delete your Snapchat account, reactivate Snapchat, how to deactivate snapchat temporarily and many more. We will provide you similar trending articles again, very soon! Till then stay tuned! If you can any problem while following our article then please let us know in comment section below and we will surely respond to your query.