Sometimes you need to Delete Facebook Account, and you can't find how to, so we have written this little tutorial for help you to do this. Please read carefully and follow all the steps to take this done. If you don't already sure of close or delete permanently your Facebook account you can think of "deactivate" it, this solution not deletes any information, only make your account inactive and invisible.
Here in this article, we are going to share step by step guide on how to Delete Facebook Account. Facebook is one of the largest social networking website in the world that makes it's easy for you to connect and share your pictures with your Family and friends through online. Facebook is a new way to communicate with each other. This Facebook is designed for college students.
How to Delete Facebook Account
To do this, please go to "Account" link on the right top of your Facebook homepage (after login), then go to "Account Settings."
You will see a page with all of your account options and the last its "Deactivate Facebook Account." After clicking this link, you will get a message page warning about this action "Are you sure you want to deactivate your account?" and a poll asking you the reason of your desire of deactivate. Also, you have an "Explain further" box to explain your reasons.
Remember to select the "Email opt out" box to get out of Facebook mailing list; this also will cancel any news or message from your Facebook friends or pages.
This action doesn't really delete permanently your account, only hide it from the rest of the users and cancel the message system, if you need or wants to close your account, please see below.
Delete Facebook Account Permanently
Now, if you want to get out from Facebook permanently, you need to delete your account for sure. Deactivate your account its very easy but delete it it's a little bit harder to do.
First, be sure you don't have an account on other site using the "Facebook Connect" system if you connect with other sites through FB you need to log out and log in using another system (like the owner of this site). Many sites like Digg, Youtube and others are now using this method, so you need to be careful.
Also Check: How to Delete Gmail Account
After the click, you will receive a warning message advising about this, and you need to complete the form with your password and to write the captcha code showed. You will receive an email from the Facebook team saying that your account will be completely deleted on 14 days. During this period, you never must login because any interaction between you and Facebook will restore your account again.
For security, please clean your pc from cookies or any other files collected when you browse, you can do this manually in your browser settings, or you can download free CCleaner software to get your computer clean (this also will help you to prevent malware like spyware, virus or Trojans).
Remember deletion and deactivation are different. Users can deactivate Facebook accounts at any time and when you choose to reactivate everything the same. While in deactivation you will not be visible to other users but messages exchanged may remain.
How to Delete Facebook Account in 2018
Follow the steps below to correctly delete Facebook skipping steps will cause data to be lost.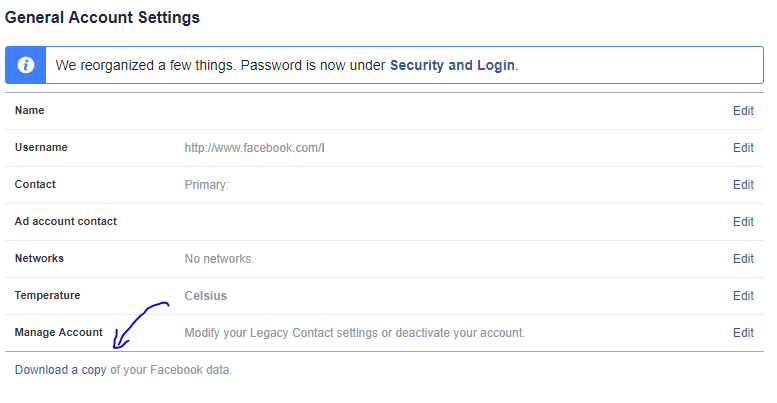 Manually gather friends contacts to keep in touch after you delete Facebook rather it be email, text or phone calls.
Also manually gather friends birthdays Facebook automatically shows and tracks your friends list birthdays this will no longer be available.
Remove linked accounts.
If you followed the steps above, you have free backup and storage. This will automatically backup and store all your Facebook data if you didn't follow step 1 you could lose tonnes of data.

Let's delete Facebook permanently. Go to this link- 

https://www.facebook.com/help/delete_account

.
Press "Delete my Account."
"Warning" opting to permanently delete Facebook user accounts once completed you will no longer have access to your account ever. Most user info is wiped from the social network database some things may stay like user names with people you exchanged messages with. Hope this helped you delete Facebook!