Playing games these days has become a in-door sports, where people from different state and countries compete with each other remotely in games like PlayersUnknown Battle Ground, CounterStrike, Dota, Call of Duty and many more. As we all know that HyperX Cloud is company which is totally into developing Gaming Headphones for more than 30 years to provide better user experience. HyperX is the only brand which gives a tough competition to Steel Series because these two gaming headphones brands are the only brands which are loved by gamers. The main reason behind that is, quality and long lasting, these headphones are quite good in terms of quality as well as material from which these headphones are developed. We have seen many people posting on HyperX official forum that their headphone mic not working properly and there in comments we didn't find any solid solution which was working and then later we figured it out on our own and so in this article we are going to show you how to fix HyperX Cloud 2 Mic not Working issue in Windows operating system.
Fix HyperX Cloud 2 Mic Not Working Problem
Well to be honest, there will be few reasons why your hyperx cloud 2 mic is not working, Maybe it is due to software drivers, you should try to reinstall HyperX Cloud drivers in Windows or your Headphone hardware is critically damaged from inside and in that case you have to send your headphone back to the company for RMA.
In case of software you should fall these methods in order to solve your hyperx cloud 2 mic. In this post we have written few methods, all you need to do is follow them.
Do some normal troubleshooting with your Headphone.
Try to Check your sound settings.
Update the headphone drivers from Device Manager.
Solution 1: Do Some Normal Troubleshooting with your Headphone
You just need to check that all the wires are properly connected to your computer or not. You should cross verify the ports that green color port is for Sound and that is basically our output and red color port is especially for Mic, and that is our input, you have to make sure that these green and red color wire are properly connected to computer ports.
If you are still facing problem then check whether your headphone is muted or not manually by pressing the mute button as shown in this image.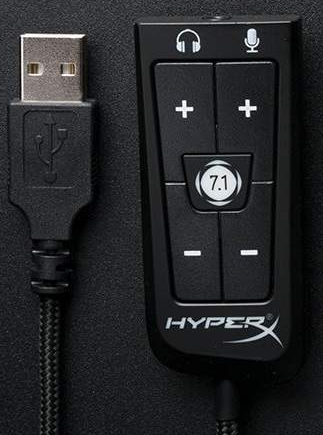 We hope that now your HyperX cloud mic should start working, but if you are still facing problems then we have two more solutions for you which can help you fix HyperX Cloud 2 Mic not Working in windows.
Solution 2: Try to Check your sound settings.
In this method we are going to manually check the Windows sound settings and from there we are going to reset the sound settings to default which will enable the microphone.
In first step, you have to press Windows + R button and there you have to type "Control" and press Enter from your Keyboard.
It will open Control Panel Menu and there you have to select Large Icons from the drop down menu which is located at top right corner of the window.
Now locate and select Sound from there.
It will open Sound Settings and there you have to click on Recording Tab where Show Disabled Devices should be ticked.
Right click on Headset Microphone and select Enable option and then you have to again right click on it and select Set as Default Device.
Once the above setting is done, you have to restart your system and then check your HyperX cloud Mic works or not.
Solution 3: Update the headphone drivers from Device Manager
Still facing the same problem? I know this problem is quite annoying so therefore in this article we have mentioned one of solution for your problem and if this doesn't work then your Headphones is critically damaged from outside and should send it back to the company for RMA as soon as possible.
Right click on MyComputer and select Manage.
It will open a small window where you have to find and select Device Manager.
Device Manager will show you all the devices that are connected to your System internally and externally like Monitor, Keyboard, Processor, Mouse, Headphones, etc.
In Device Manager you have to select Sound Video and game controllers and inside that you will find High Definition Audio Device.
You have to right click on High Definition Audio Device and Select Update Driver Software and your system will automatically start searching for updates.
Once the drivers are updated and installed, restart your system test your Mic.
Also Read: How to Delete Skype Account
So this how you can solve HyperX Cloud 2 Mic not Working problem, I'm quite sure that your HyperX cloud 2 mic will start working if you have followed all the solutions mentioned above and still if it doesn't work then you should send your Headphone for RMA because I think there is issue with a hardware and that is why the Mic is not in working condition.