If you want to look at your Idea balance without dialing idea customer care, then there's an easy trick. Idea allow users to use some unique codes called Idea USSD Codes. Now if your Idea main balance is low and you have to call someone then think about these options. There are lots of ways to look at your balance or other details on your Idea Network. Using these Idea USSD Codes, you can easily check your main balance or take some Talktime loan.
So, you should look at your Idea net balance frequently. The moment you have sufficient balance in your Idea SIM card, the amount of the loan will be subtracted from your Idea Balance. You may dial all these SMS balance to check numbers or you can send SMS and await the popup message to appear with details.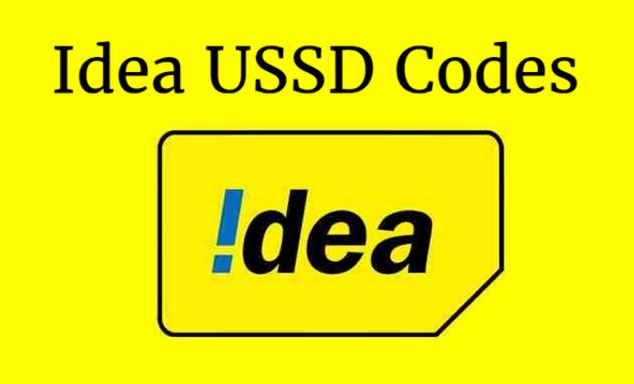 These IDEA USSD codes mentioned below are the very best codes for the users which were working for the majority of the Idea Customers. Ussd codes are used to look at our sim info. Now you don't need to be worried about USSD code. If you wish to know about any other USSD codes, working on a specific State. Idea ussd codes allow you to provide a quick call back information. There are numerous USSD codes offered for the idea and also various USSD codes by states.
Idea USSD Codes 2018
Hello Idea users, if you're still using SMS and you would like to know your SMS pack balance then dial the subsequent IDEA USSD code.  Here is a list of all the working Idea USSD Codes in 2018.
| Service | USSD Codes |
| --- | --- |
| Idea Main Menu |  *121*4# |
| Balance Check |  *131*3# |
| Idea Last 5 SMS |  *121*4*1*2# |
| Data Usage Info |  *121*4*1*3# |
| Idea 3G Internet Detail |  *121*4*3*1# |
| Idea 2G Internet Detail |  *121*4*3*2# |
| Idea Store |  *121*4*5# |
| Idea DND Service |  *121*4*6*5# |
| Idea Roaming Charges |  *121*4*7*1# |
| Idea International Roaming Packs |  *121*4*7*6# |
| Idea Full Talktime Recharge |  *121*4*8*1# |
| Idea Local Recharge |  *121*4*8*2# |
| Recharge Offer |  *121# |
| Last 3 Recharge | *121*4*1*5# |
| Idea Talktime Loan |  *150*10# |
| Internet Loan |  Send a message "ICREDIT" to 144 |
| Check Own Number |  *131*1# |
| Idea Number check |  *121*4*1*4# |
| Internet Offer |  *122# |
| Last 5 Calls | *121*4*1*1# |
| Active VAS |  155223 |
| Idea STD Recharge |  *121*4*8*3# |
After the call becomes disconnected a popup message with balance details will show up on the screen. Soon you will get a flash message. Its free and you'll get a flash message on your screen.
Its network can be found at nearly every place. Mostly all of the network providers have different USSD codes by their requirement. Many Sim card businesses supply the different Internet services. If you're an Aircel customer who would like to know their Internet balance in 2G, then Dial the following Aircel code. You need to be an Idea customer for at least 120 Days to transfer balance.
Most of the Idea users don't find out how to use USSD codes based on their need. There is a whole lot of times when you would like to look at your Idea Balance, but you don't know to check it.
Comment some more Idea USSD Codes if you know except listed above and share knowledge.
Thanks for reading this article.