Hello there! TricksMaze is here with another amazing guide on how to install Kodi on Chromecast. Chromecast is Google's latest media device, just like Amazon Fire TV and Apple TV. It is an HDMI dongle type product which is basically like Roku and Apple TV or even Google TV. You can install any application on Google Chromecast. Here we are going to tell you How to install Kodi on Google Chromecast and how to cast Kodi from android to tv. If you like watching TV Shows, movies or films, you'll probably know about Kodi. Kodi is a popular Movie and TV streaming application, allows users to watch the latest movies and TV shows online. Using Chromecast, you can convert any TV into a personal theater.
You can even cast your Chrome browser directly to the HDTV and that way you can get access to other absent media sources such as Hulu. Till now there are many new apps released for Google Chromecast. But Kodi is an awesome app, that you must have installed on Chromecast.
How to install Kodi on Google Chromecast
Kodi is available for Chromecast Ultra, Chromecast or Amazon Fire Stick. If you have Amazon Fire Stick then check out the previous guide on how to install KODI on Amazon Fire TV without PC. Here's how to install Kodi to a Google Chromecast.
#Method 1: How to install Kodi on a Chromecast using a tablet or Android phone
Download ES File Explorer, Kodi, LocalCast and .xml file PlayerFactoryCore.
Open ES File Explorer, open Settings > Display settings and make sure "Show hidden files" is ticked.
Next, make sure your Kodi or XBMC media center is connected to the Kodi app.
Next, Go into ES File Explorer again and open the Downloads folder.
Here you should find the PlayerFactoryCore.XML file you downloaded earlier (if not, navigate to where downloaded files are saved).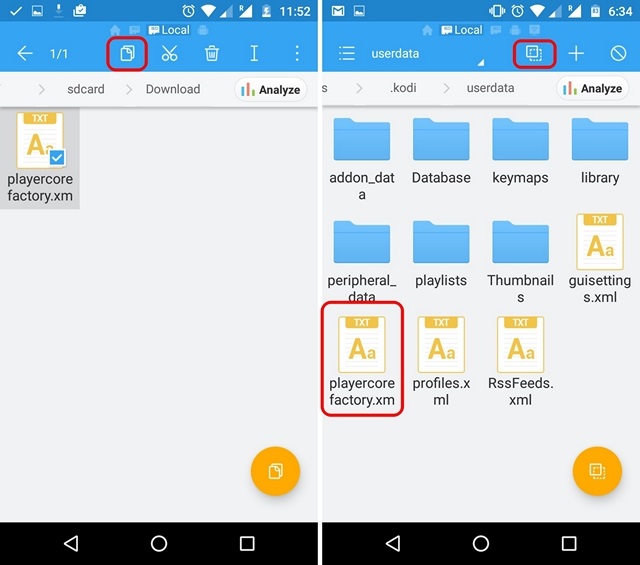 Copy the PlayerFactoryCore.XML file and navigate to Android > Data and look for either "org.xbmc.kodi" or "org.xbmc.Bx mc" depending on which steamer you use. Kodi will be "org.xbmc.Kodi"
Then click on Files > .kodi  > user data and then paste the PlayerFactoryCore.XML, file into this folder.
Open Kodi and navigate to the video file you want to watch.
Kodi will then automatically launch LocalCast – although Android will ask you which casting app you would like to use.
Once loaded, you'll be prompted to press "Play" and asked which device you'd like to stream to.
You'll then have to click "Play" one more time, and it should, finally, play on your Chromecast connected TV.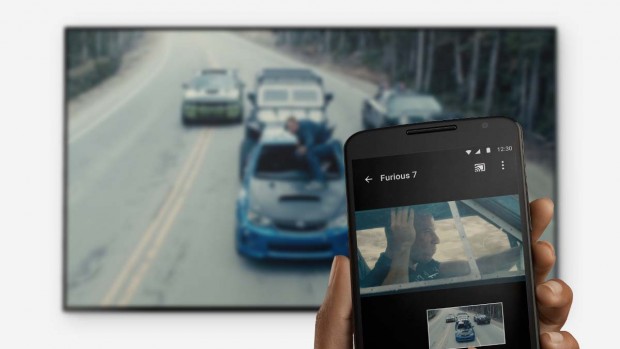 #Method 2: How to install Kodi on a Chromecast using a computer
If you have a computer and looking for an easy guide to install Kodi on Chromecast then check this simple guide.
Download Chrome and the Chromecast app, as well as ensuring you have a Kodi client installed on your computer.
Install Chrome and its Chromecast casting extension.
Open Chrome and select the "Cast" option from your Chromecast extension.
Where you see "Cast this tab to…" on the right will be a small down arrow, click it and select "Cast entire screen (experimental)".
Once done, your entire computer desktop should be streaming to your TV.
Open Kodi or XBMC and fire up a video to watch.
Also Read:
How to cast kodi from android to tv
Requirements:
ES File Explorer – (link mentioned above)
Kodi for Android from the Google Play Store or from Kodi.tv (manual)
LocalCast – (link mentioned above)
PlayerCoreFactory.xml File – (link mentioned above)
Setup Kodi on Android to Play Videos to LocalCast
All you need to do is take that xml file and place it in user data folder. Just Follow these easy steps:
Download the xml file to your Android device using your browser, it should go into a Download folder.
Open ES File Explorer, and go into the settings and check the box to show hidden files.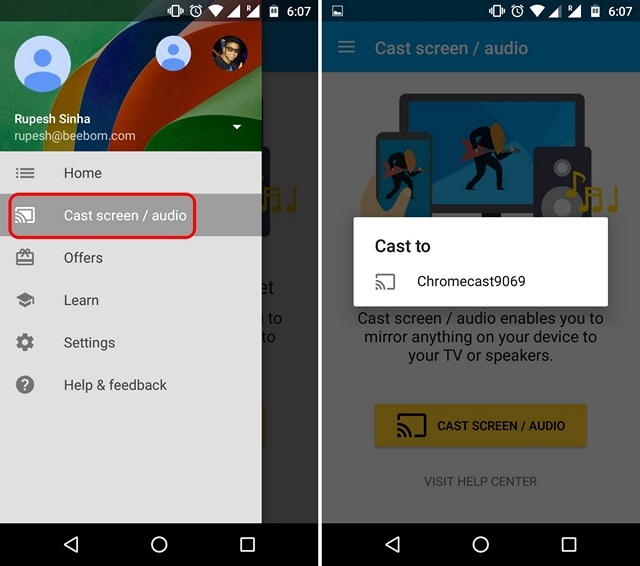 Go into the Download folder and copy the XML file that should be there.
Go to /Android/data/org.xbmc.kodi/files/.kodi/userdata/ and paste the xml file there.
Play Kodi Videos to Stream to Chromecast, Xbox One, Apple TV
How to Stream Kodi Video Add-on Content (like Exodus, SALTS, etc) to Chromecast or other DLNA devices
If playing a video in Kodi doesn't open LocalCast, try the following:
Check that the playercorefactory.xml file was placed in the user data folder correctly.
Check that the playercorefactory.xml file downloaded properly and is complete. Try deleting it and downloading another copy.
Check that the playercorefactory.xml file is spelled correctly.
Check that LocalCast was installed properly.
Read the following if you have trouble with a non-stop "Loading" message in LocalCast when trying to stream to Xbox One:
Completely shut down your Xbox One.
Completely shut down your Android streaming device.
Connect to your router's admin control panel (192.168.1.1 or 192.168.0.1 and look-up your default admin login if you don't know it).
Go into advanced settings and reboot your router.
After the router has rebooted, power on your Xbox One and Android streaming device.
Run the LocalCast app to make sure it connects to your Xbox One.
Run the Xbox Video app on your Xbox One.
Run the Kodi app on your Android streaming device and play a video.
We hope you liked this article on How to install Kodi on Google Chromecast. If you're experiencing problems with the final step, we recommend you install Kodi via one of the methods listed above. These guides are working fine. If you're still getting issues, then comment below.