On August 12th as the Sensex and Nifty were on a downward spiral Reliance came out with their Annual General Body Meeting and unfurled plans for their Jio Giga Fiber service which will change our networking and connectivity landscape, once and for all. Since announcing the project, customers have all been excited to know further details regarding this plan, such as registration, signing up, the tariffs they are most likely going to offer and what other services they can expect. Reliance stated that it would roll out its Jio Giga Fiber service from the 5th of September. As this day steers closer every day, we thought it best to let you know about all the details regarding the project. Here's a look at everything you need to know about the Jio Giga Fiber broadband service and also, how you can be a part of it.
Jio GigaFiber Goodies and Services Plan
The service which will officially launch on 5th of September will have several plans and packages ranging from Rs 700 all the way up to Rs 10,000 a month. Reliance MD Mukesh Ambani announced in the Meeting that the service would provide speeds as high as 1 Gbps and will have a minimum speed of 100 Mbps, making this a high-speed project. The plan is also highly flexible and comes with a lot of other goodies such as HD and 4K TVs, landline connections and even a phone to make calls with on a daily basis. As per the plan is chosen, Ambani also said that the program would include free landline connections and also a 4K set-top box, making this is the dream entertainment package which provides voice-calls, internet, and broadband service.
Jio GigaFiber Registration Process
Now you know about the service, I am sure you guys want to know how to become a part of this network. So, here's a look at the process of registration.
Open up your favorite browser, and head on over to this website – https://gigafiber.jio.com/registration !
In the part where they ask for your address, input your home or office address where you want the connection to be set up.
Provide the details they ask for, such as name and contact number and click enter.
An OTP will be sent to your registered mobile number.
Enter this OTP onto the website.
Once this is done, a customer-care representative from Reliance will then call you to verify your details and let you know about the various offers and plans they have.
Collect the details you require from them and then sign up for the plan that best suits your needs.
Once a meeting is set up, an executive will visit the premises to double-check your ids and then will go on to install the service.
The registration will require you to submit two government ID proofs or documents. This could include your Aadhaar card, driving license, PAN card, Voter's ID and even your passport.
The registration can also be done via the MyJio app as the process remains the same.
Jio Fiber Offers You Can Avail
As the Jio Giga Fiber service rolls out on 5th September, Reliance has announced various offers to attract customers towards their services. Joining via these offers can lead to better deals and several other benefits. Here's a look at some of the offers Reliance has announced for its Jio Giga Fiber customer base.
The JioFiber Welcome Offer is one of the best offers announced by the company and is an excellent offer to avail if you plan on setting up your living room. This offer comes with either an HD or 4K LED TV depending on the plan you choose and will ensure that all your entertainment needs are met. Alongside the broadband service, this offer also gifts the customer a free landline connection that allows for unlimited calling meaning you never have to worry about your phone bills again. It also comes equipped with a 4K set-top box which has all the channels you will ever need, including everything from sports to Hindi cooking channels. These set-top boxes come with an in-built graphics card and are hence going to be a great platform for gaming. This has been added so as to entice teenagers and youngsters and generate interest within the young crowd. The set-top box will allow people to participate in interactive and social games making this the ultimate entertainment package. These extra goodies will be available to people who opt for the Jio Forever plan. To avail this offer, register as soon as possible by looking at how to do from above.
The Jio GigaFiber Broadband Welcome Offer is also expected to include a 3-month free internet service to attract even more customers and let them test the service before fully paying for it. Once the preview time ends, the customers can just choose a plan that best suits their needs and then switch to it.
Another interesting offer that Reliance provides is the Zero Installation Charge scheme which means that people who register in the initial phase of the Jio Giga Fiber Scheme will not have to pay extra for setting up the service. The complimentary JioFiber installation means that customers will only have to pay for a refundable security deposit and nothing else. This will allow a lot of customers to save on some big bucks as most telecom services charge for their initial set-up. The refundable security deposit for the router will amount to a bare minimum Rs. 2,500. There will be no further connection or installation charges.
The 'Jio First Day First Show' offer or service will allow customers to watch movies from the comfort of their homes on the day of the movie's release. This plan will be ready for consumers from next year onward and is one the company expects will change the entertainment industry. No longer do people have to stand in line for a ticket, pay exorbitant prices for an opening day show or struggle to get to a far-away mall or theatre just to watch their favorite character on screen. This service will make it all the more easy for movie fanatics as now, they can watch their much-awaited release in their home, using their JioTV.
Also Read:
Things to Keep in Mind
The Jio Giga Fiber service has been announced as a way to celebrate the third anniversary of Reliance starting its Jio services.
The company has also announced that since this is the rollout phase, priority will be given to the cities from which the most number of people register or apply for a Jio Giga Fiber connection.
The Jio GigaFiber connection will come along with a Jio Giga Router which will be used to host the broadband network for your home or office. The plan also comes with a Jio Giga TV Set-Top Box for all kinds of IPTV (Internet Protocol Television) services.
The registration does not require a JIO mobile number and so you can complete your application even if you don't own a JIO phone or SIM card.
Jio GigaFiber Broadband will use the same technology that Google Fiber uses, which is a Fiber-Based wiring and networking system that provides tremendously high speeds.
Isha Ambani, daughter of Mukesh Ambani recently unveiled its new devices with awesome plans. The company has announced the Jio Giga Fiber Router, which might revolutionize the Indian telecom industry. The new Jio GigaFiber, the optical fiber-based broadband will be announced by Jio. The new GigaFiber will be launched in 1,100 cities. Here in this article, we are going to share how to Book Jio GigaFiber Online and how to Buy Jio GigaFiber Online, Price and its plans.
The GigaFiber is currently Reliance Jio's own FTTH Home broadband alternative, offers internet rates up to 1 Gbps. The Jio GigaFiber and Jio GigaTV are going to be accessible in 1,100 cities as we mentioned.
How to Buy Jio GigaFiber Online, Price, Plans
Jio also announced FTTH-enabled set-top box that o voice control feature and voice calls through the TV. Now so many people are asking when GigaFiber and Jio GigaRouter will be available? Now Jio said that online registration will start from 15 August. And according to the highest number of registration, Jio will start installing Jio GigaFiber and Jio GigaRouter in that City.
You will get a Broadband connection at the speed of 1Gbps. The automation features and house security will be helped through a partnership with Byju. It must be said that Jio GigaFiber is offering two connections. One is Jio GigaFiber router and another one is Jio GigaTV Set-top box. Jio GigaFiber router is for Web services in numerous devices at a rate of 1Gbps. And, Jio GigaTV Set-top box is for home entertainment, HD video calling and more.
Reliance Jio Fiber Plans – Jio Giga fiber broadband Plans
The first Jio GigaFiber FTTH plan is 100 gigabytes (GB) of free Data at 100 Mbps speed after the data finished, the user can get 40 GB of free Data.
Jio GigaTV also announced by Jio with high-definition definition resolution display and 4K resolution. This service offers approximately 600 channels with unlimited songs and movies. As stated earlier, there's voice control feature enabled with this FTTH Jio GigaFiber. Additionally, the Reliance announced Jio SmartHome accessories along with Jio GigaFiber FTTH service.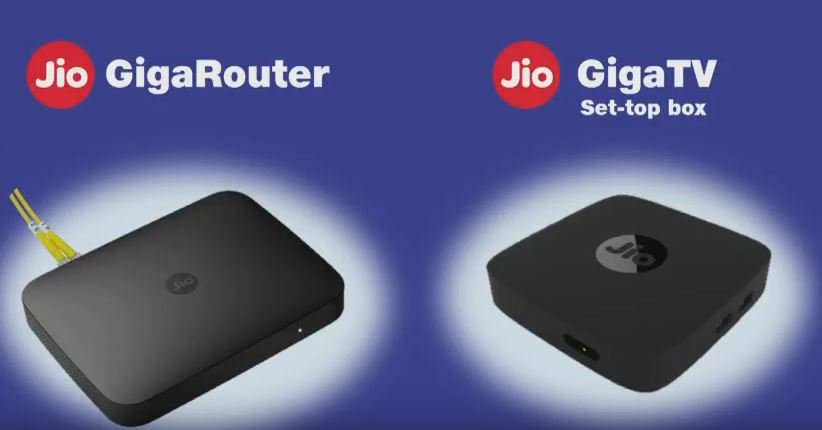 From Where & When Jio GigaFiber Will Be Available?
The most recent Jio GigaFiber wired broadband will be available across 1100 cities in India, starting from September 5.
How to Buy To Get Jio GigaFiber or Jio GigaFiber Online Registration?
Jio GigaFiber is available from September 5 and you have to register for it. You can apply for Jio GigaFiber using MyJio App or Jio.com. Reliance Jio will start installing its Jio GigaFiber that city from where they will receive the maximum amount of registrations.
Jio Fiber Broadband Speed Based Plans
| Plans | Data | Price (in Rs) | Validity (in days) |
| --- | --- | --- | --- |
| 50 Mbps plan | 2000 GB | 1500 | 30 |
| 100 Mbps plan | 1000 GB | 2000 | 30 |
| 200 Mbps plan | 750 GB | 3500 | 30 |
| 400 Mbps plan | 500 GB | 4000 | 30 |
| 600 Mbps plan | 300 GB | 5500 | 30 |
Hope you liked this article regarding How to Buy Jio GigaFiber Online, Price, Plans. If you want to buy Jio GigaFiber and Jio Giga Router with Jio GigaTV then comment below. We will help you.