Samsung Pay is a facility provided by Samsung company on some of the Galaxy devices, and by using your Galaxy phone you will be able to make payments across the world and in this case, you need to swipe, or you don't need credit or debit card this can be done by using Liquid cards.
How does Samsung Pay Work?
You need to choose any Samsung Galaxy devices that have inbuilt feature of Field communication technology and through this, you can that transfer the tokenized version or liquid version of any debit or credit card, and for this, you need to enter the debit card credentials, and you can securely pay to any merchant terminal. Samsung Pay also supports one new proprietary technology and Magnetic Secured Transmission through which you can transmit the same secure tokenized credit card/debit card, and you can directly transfer payments.
Also Read: Create a Samsung Account to Use Samsung Apps
How do I get Samsung Pay on my Device?
Samsung Pay is available with the different Galaxy versions.
Here are some of the versions with which Samsung Pay is available- Note 8, S8, S7 and S7Edge, S6, S6 Active, S6 edge+, S6 edge, Note5, Gear S2 and all of these come with NFC only and you can also use it in Gear S3, and for this, you only need to update your phone to the new version. You can avail of this facility by taking help from any nearby Samsung network operator. The app will appear on your phone only when customers will update and install the operating system update on your mobile phone. Samsung Pay comes with a preloaded app on Samsung Iconic devices. You will not be able to download the app if it is not available for download and also on unsupported devices.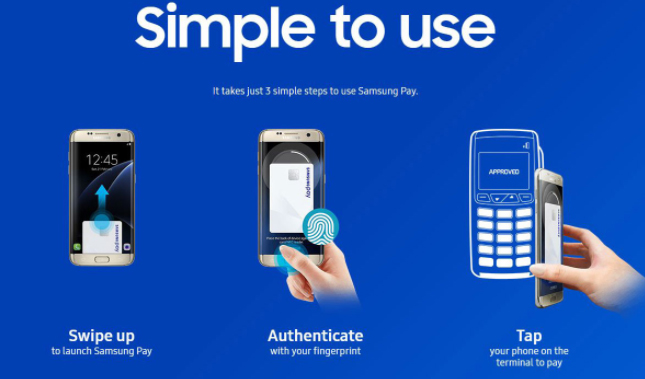 How do I add my cards to Samsung Pay?
Select and open the Samsung Pay application and log into your account by using your Samsung account information. If you do not have a Samsung account, then you need to create one. As soon as you log in to your account, then you need to click on ADD CARD, and then the Samsung Pay app will begin the process of adding your card. As soon as you add the card in the screen window, you will get a notification from Samsung Pay, and that will read the card number. Then you need to enter the card number manually once added, then verify the information and enter all the additional information that is asked, such as Cardholder Name, Expiration Date, and also CVV. Accept all the Terms and Conditions for adding a card to the digital wallet, and you can do this by touching AGREE TO ALL option. Then you will receive an OTP at that time for confirmation, and you will receive One Time Passcode through SMS or EMAIL or CALL IN. As soon as you enter One Time Passcode, you will be delivered to the destination you selected. Then enter the OTP code that you receive and touch submit. Once you are done with this, you can use your card in Samsung Pay.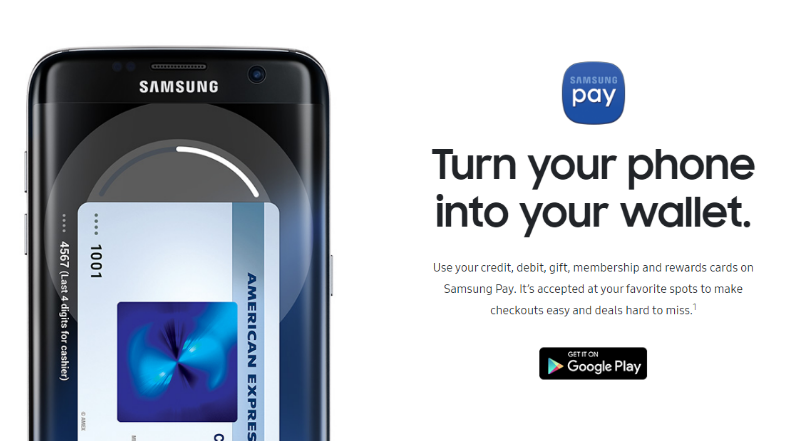 How do I pay using Samsung Pay?
Once you add your card details, then your eligible Chase card is registered to Samsung Pay, and in this way, you will be able to access your maps by swiping up from the bottom of your screen.
You will see the most recently added or most used card is displayed. Swipe left or right or scroll through your registered payment cards.
When your desired card is selected, then place your finger on the Home button, and then you can use your Samsung Pay PIN, touch PIN. Then you need to enter your four-digit PIN.
You will get a notification that will indicate and give you personal, and then you are ready to make a payment.
For NFC Payments
You need to hold your phone above the NFC reader, or you can also scan the payment portal.
Then you can fix your camera with the NFC logo.
Make sure that two devices should be almost touching each other.
For MST Payments
Keep your phone close to the terminal.
Then keep the camera facing the magnetic stripe card reader.
Make sure that two devices should be almost touching.
Using Samsung Pay on the Gear S3
Press long and hold the back key so that you can launch Samsung Pay on your Gear S3.
Flip or rotate the bezel so that you can select a card.
Click on any NFC or MST terminal of your choice.
You can complete the transaction on the payment terminal.
Final Words
Samsung Pay is one of the secure payment methods by Samsung. You can add credit and debit cards, set UPI ID and also use Wallers on Samsung Pay. All you will need is the Samsung Pay app and the NFC feature. If you still need a detailed guide then comment below.