If you are a Windows user and recently installed Windows 10 OS then maybe you are facing this Windows issue called Service registration corrupt or missing. This error message is very common in Windows 10, and the main issue is Windows Update troubleshooter is not able to fix it. So you will have to manually find the error and solve it with a manual process. Here in this article, we are going to share the detailed guide on how to fix Service Registration is a Missing or Corrupt error in Windows 10.
Windows Updates are crucial for each system using the Windows OS. Microsoft always recommended users to keep their system updated. If you have set Windows update in Manual mode and forgot to install latest Windows updates then first of all check for all the available Windows updates and install them.
Millions of consumers confronted in the past and several users are still confronting it. After releasing new windows, This error occurs more than ordinary.
Fix Service Registration is Missing or Corrupt Error Windows 10
The service registration is missing is a relatively common issue encountered on Windows. This error will occur more commonly on new operating systems and new installs. The service registration is corrupt or missing issue isn't a stranger to Windows 10 operating systems, either.
Symptoms of The Error
Windows won't upgrade, rather it'll get stuck at o%
When trying to install upgrades, you might get the error message.
You can also get any number of Windows upgrade errors while trying to use that Windows component.
Sometimes, Windows Update service stops working very frequently, and you may find tens of posts Windows Update mistakes on our blog. This is an issue related to the Windows Update. In the majority of the cases, this Service Registration is Missing, or Corrupt error message is seen when Windows fails to upgrade properly, and the machine troubleshooter finds the issue as "Service Registration is Missing or Corrupt" but can not correct the issue automatically.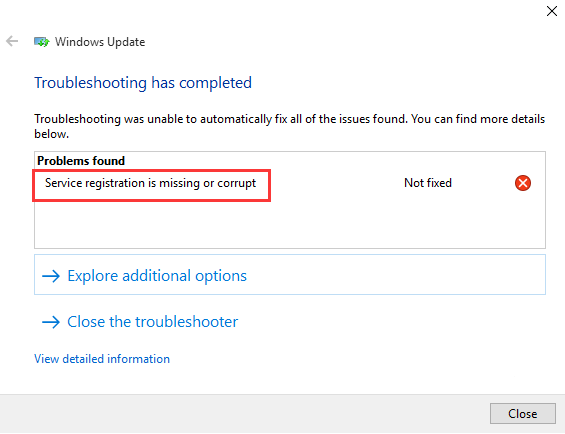 Windows continuously sends updates to users to improve their experience. When you try troubleshooting the problem, it may be repaired automatically, but still, some users are facing this issue after using Windows troubleshooter. It clearly signals that the problem results from some root services necessary to let Windows Updates work. If you neglect to correct windows problem, Then you may apply this method. Another method you may use to correct this issue involves deleting a particular registry key, an extremely straightforward method that has proven to get the job done. Making a registry check is the main thing you ought to do to repair the issue. You may try out these fixes and see whether they help you to overcome this matter.
When it has to do with repairing Windows, you have many alternatives. Possibly the quickest and simplest way of fixing a Windows based error is via using its built-in troubleshooter.
Solution 1: Run sfc/ scannow Command using Command Prompt
Follow these steps to fix Service Registration is Missing or Corrupt error with sfc command:
Step 1: Open Command Prompt as an administrator and run following command: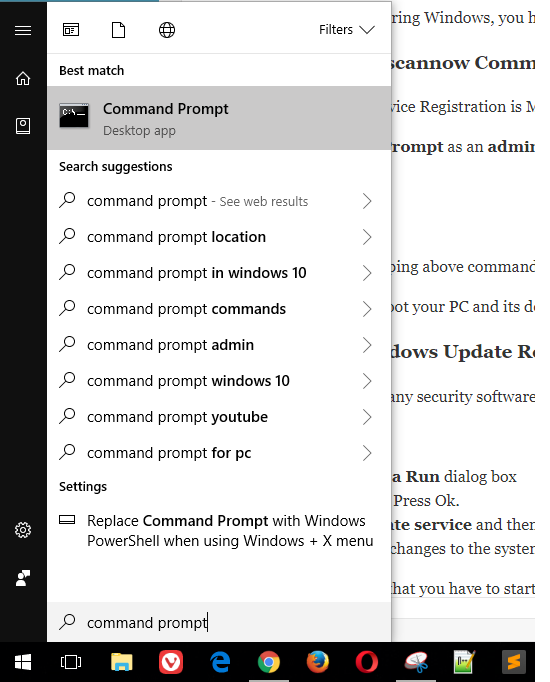 sfc /scannow
Step 2: Press Enter after typing above command. Be patient. After that, the corrupted files will be fixed.
Step 3: When finished, reboot your PC and its done.
Solution 2: Run Windows Update Related Services
Sometimes when we install any security softwares or Antivirus programs, it will automatically change Windows update services files. So you have to start those Windows services again.
Follow steps below:
Press Win+R to open a Run dialog box
Type services.msc > Press Ok.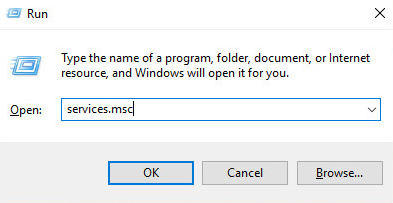 Find Windows Update service and then Set "Startup type" to Automatic instead of manual or disable.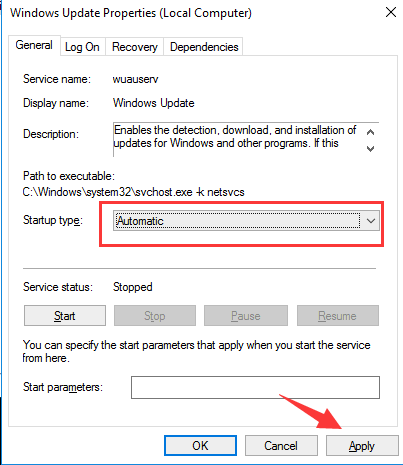 If Service is stopped then start it again.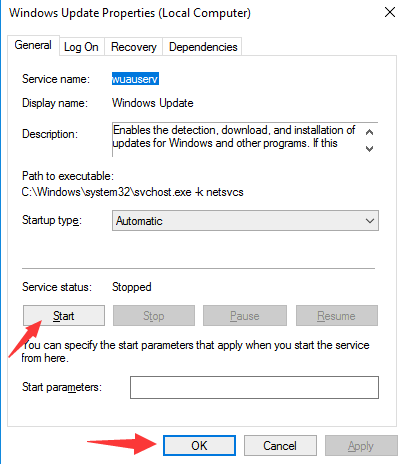 Click Apply to make changes to the system and reboot PC.
Here are few other services that you have to start using the same process.
Background Intelligent Transfer Service.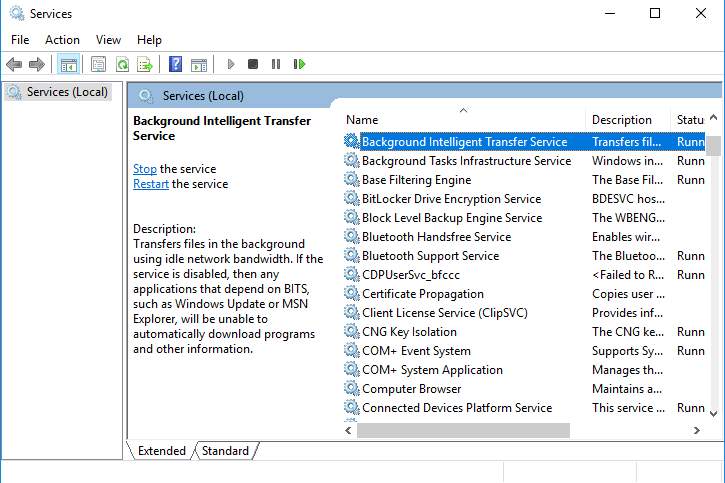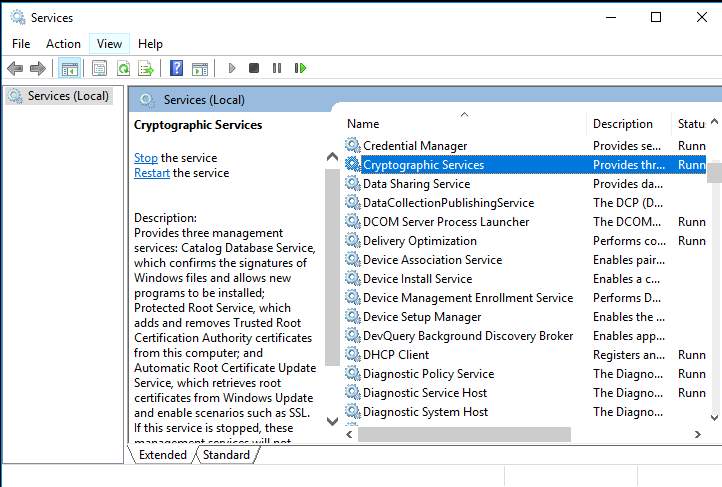 After this process, go to settings > update & Security and then check for available updates.
Install all the available updates.
Solution 3: Run Windows Update Commands
If above solutions are not working for you and still you are facing Service Registration is Missing or Corrupt issue then you can run these windows commands to solve this error.
To run commands, you have to Open Command Prompt as an administrator.
Run below mentioned commands one by one.
net stop wuauserv
net stop cryptSvc
net stop bits
net stop msiserver
ren C:\Windows\SoftwareDistribution SoftwareDistribution.old
ren C:\Windows\System32\catroot2 catroot2.old
net start wuauserv
net start cryptSvc
net start bits
net start msiserver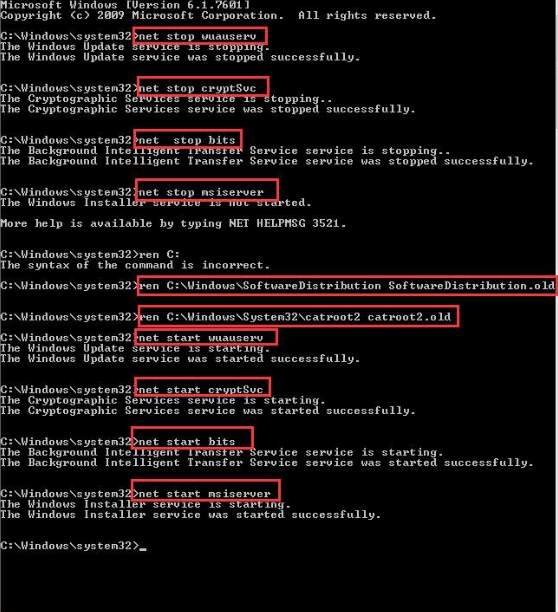 Once done, reboot your system and see if you are still facing the error or not.
Solution 4: Disable Window Firewall for a while
Sometimes, Window Firewall is blocking Windows updates. Sometimes disabling Window Firewall will fix this issue.
Step 1: To do this, open Control Panel > View by Small icons > Windows Firewall.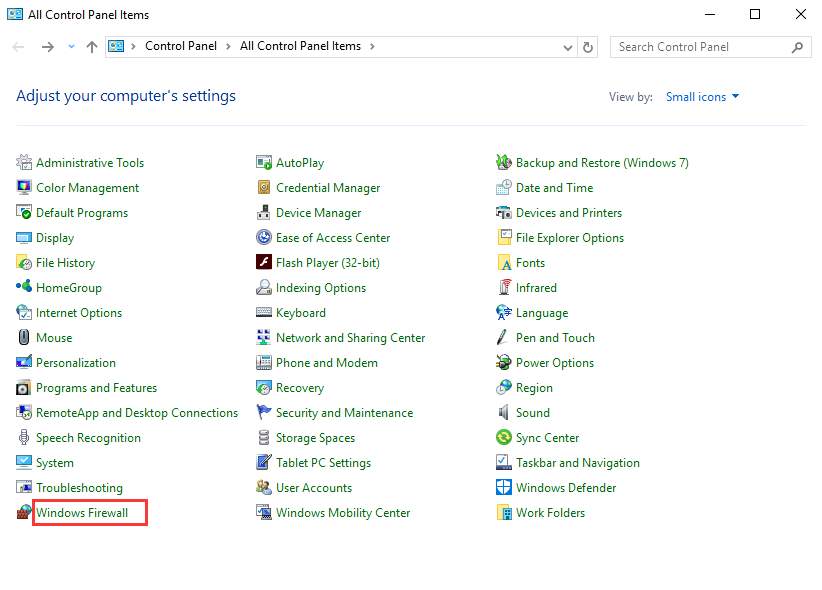 Step 2: Select Turn Windows Firewall on or off option and Check the radio button next to Turn off Windows Firewall.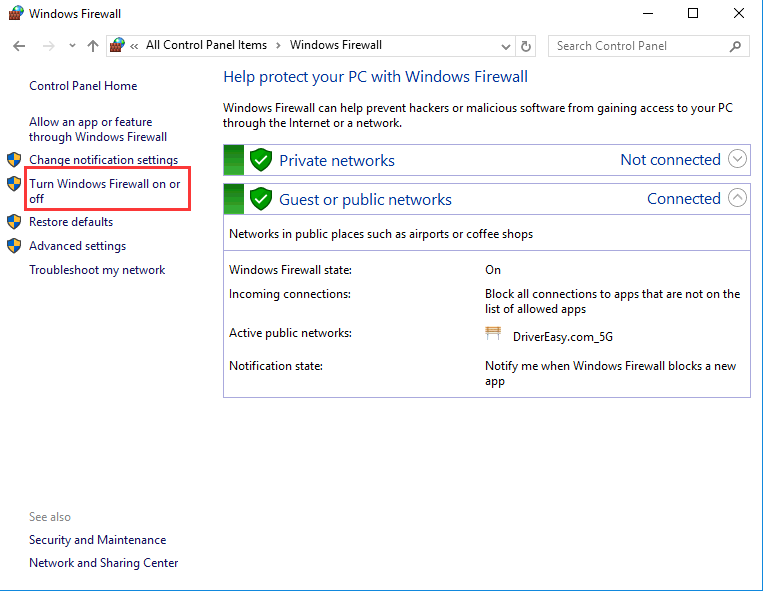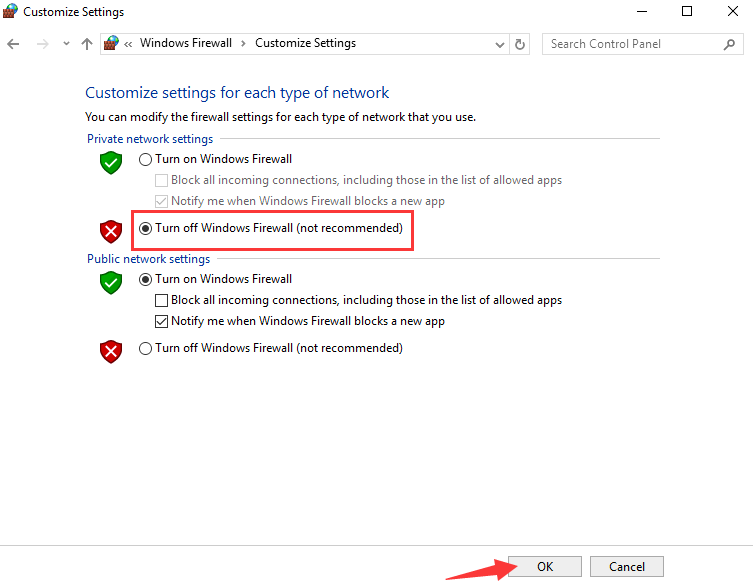 Step 3: Click Ok to make changes.
Keep in mind that you have to Enable Windows Firewall again once the error is solved.
Method 5: Disable Antivirus Software
As we mentioned above, some security softwares like Antivirus are the main reason for this error. So Disable any antivirus that you are using for a while. Reboot PC. Check for the error again. If all good then Enable Antivirus again.
Hope the methods we mentioned above will fix the error Service Registration is Missing or Corrupt. If you need any further help then comment below.