What is an Arduino simulator?
Arduino simulator is for beginners and professional circuit designers to learn, program, and test ideas without worrying about wasting time and money. It makes it possible for everyone.
For programmers who want to learn any type of basics of circuit schematics and design, Arduino simulators are the perfect platforms.
Without being afraid that you will damage design equipment and your board, the Arduino simulator helps you to learn through an avenue.
With the help of Arduino simulators, students who face challenges purchasing electrical equipment without any clue on how they will work can eliminate trial and error mistakes, saving both time and money.
Arduino simulators support line-to-line debugging, and the user can quickly and accurately find out the spot where things went wrong, this is another advantage of it. Arduino simulators consist of all kinds of forms, and these are developed so that it is a way to be compatible with different OSs.
Why use an Arduino simulator?
This will help you to learn how to code and build circuits from anywhere you have a computer and internet access.
To track down hardware/wiring errors is the easiest in the simulator. Ok, a bus breadboard. It is to visualize which wires are connected to which pins, recreating it in the real world goes much smoother if you get it right in the simulator.
To help troubleshoot issues and for feedback, you can share your design with peers, the hardware and coding side of the project is visible to the person who is reviewing it and the same time.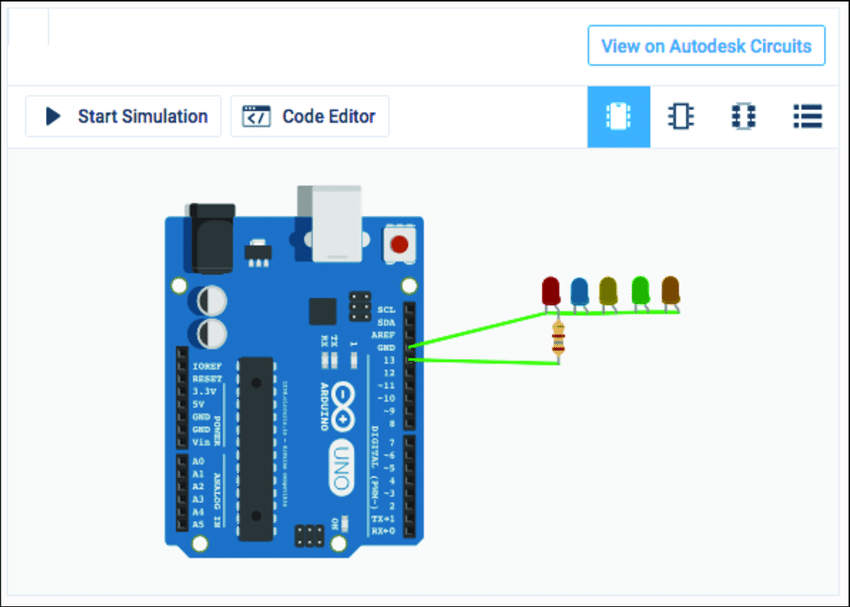 Top 7 Arduino simulator which you can use for your PC
Here is a list of Top 7 Arduino simulator which you can use for your PC:
1. Autodesk Eagle
For every engineer out there Autodesk eagle provides powerful and easy-to-use tools. With the help of a complete set of PCB layout and schematic editing tools, library content, and community-driven features, users can bring it's electronic inventions to life.
The key features of Autodesk Eagle include the following:
It is a systematic editor.

Multi sheet schematics- any design of any size can be well organized. 

Modular design blocks – the existing blocks of circuitry can be reused.
2.Proteus
Proteus manages to make the Arduino simulator seem like the easiest thing as it combines simplicity with its various features. Proteus is a great Arduino simulator.
In all Industries such as education, automotive, etc., these simulators have managed to make inroads.
Proteus also allows the following operations:
Debugging: in single-step modes, it can perform simulations, and it also works just like a debugger.
Diagnostics: comprehensive diagnostics and trace messaging, are the things Proteus is equipped with. Co-simulate both low and high-level micro-controller code in the context of a mixed-mode SPICE circuit simulation.
Also Read: Best Windows Emulator for Mac
3.Autodesk Circuits
Autodesk Circuits allows you to bring your ideas to life with online free and easy-to-use tools. In case you are only a beginner, you can start with more simple experiments in the Circuit Scribe or the Electronics Lab. Users who are more experienced can skip ahead and go straight to PCB Design.
Electronics Lab Hub includes the following:
Real-time simulation: before building a circuit in real life, you can design and prototype. All the way to oscilloscopes, you can use anything from resistors, capacitors, and potentiometers.
Arduino programming: in the editor, you can program and simulate any Arduino code, and you will have a full serial monitor and a growing collection of various supported Arduino libraries.
Collaborative editing: you can invite others to collaborate in real-time on your designs.
4. Virtronics Simulator
Virtronics Arduino simulator is one of the most powerful simulators, and it is also known as the most full-featured that is available now. Some of the most important benefits that it contains are as follows:
It has the ability to teach as well as demonstrate some of the inner workings that are basically for an Arduino sketch.
Using this you can also sketch even before the before purchasing equipment or the hardware.
Through this, you can also debug a sketch.
By using this, you can also demonstrate a project to some of its potential buyers.
5. Electronify
Electronify is one of the most helpful in cases where you are struggling with electronics and especially when you want to find out some of the electronics projects.
This is handy in most of the cases and also in cases if you are new in the electronics line and also if in case you want to learn more about electronics and its system then also you can make a career in the field.
Electronify will help you to learn some of the basics of electronics, and also it helps you with different hardware-level languages. The website helps you with all the necessary information, and it also helps you to learn some of the basic and also some things about advanced courses about electronic communications as well as embedded systems using basic methods.
6. Virtual Breadboard
Virtual Breadboard is one that is created for Arduino, and this helps the users to learn about all the basics. In the world of physical computing with the Arduino, this is a type of micro-controller and controller that will help to used different electronic circuit models.
Some of the features of Virtual Breadboard for Arduino are as follows:
Through this, you can learn about different physical computing activities, and also it is in a safe virtual sandbox environment.
This will help you to learn about different Arduino examples.
This will help you to explore different types of sensors, lights, as well as motors.
7. Fritzing
Fritzing is hardware that is open-sourced, and this helps us to learn about different electronics. It also helps us to know about the creative material that is loaded inside the electronics.
Features of Fritzing are as follows:
It helps the user in Documenting their prototypes as well as it helps the user in sharing prototypes with others.
It creates a platform just like a classroom so that learners can learn.
Best out of all is Virtual Breadboard for Arduino
It is one of the best sandboxes, and it helps the learner to understand some of the physical computing concepts. Advanced users can also use the full version of VBB, and it also provides the Arduino Toolkit module so that users can enhance their learning.
Through this, the user can also check out some animated GIF screenshot recordings, and that is basically for documentation highlights. According to many users, the software is just perfect, but it has a few bugs, so it needs fixing.