If you are looking for some free Online Chat Rooms in 2021 then this article will help you.
We all like making friends. Being humans, it is something that we are expected to do as well. There are several avenues available for us to the same. Everyone is different. Some of us have been friends with the same people for decades; others get new friends whenever they switch places. Some of us are anxious to speak to new people, and with others, it's like they were built to socialize. Some of us take time to form new friendships, and others become friends within days. But, at the end of the day, everyone likes companionship, and more importantly, everyone likes to make new friends. How many of you ever tried making friends online? In the present day we live, I'm guessing many of you. So if you are someone planning to do so, then this article is for you. Here's a look at the top ten best online chat rooms available for you to meet and befriend strangers.
How the Internet Changed Friendships?
Before the Internet was a thing, friendships were made in playgrounds, classrooms and school buses. Now, thanks to technology, all of that have changed. The internet and the subsequent explosion of social media have led to a metamorphosis in terms of how people interact with each other. The internet has made it a lot easier for people to meet, greet, chat and socialize. Connecting with someone who lives across the ocean, takes just a click nowadays! That is the pace with which the internet has changed friendships.
While people with social anxieties had a difficult time in the past, the Internet and the anonymity that chat rooms provide has made it easier for such people to make new friends. These chat rooms and social media platforms help you to connect with old friends and make new ones with ease. Have you ever made an everlasting friendship online? If you have, then you know exactly what I'm talking about. If you haven't, then don't worry about it. You still have a lot of time to catch up and meet people with similar interests.
Top 10 Best Online Chat Rooms to Talk with Randoms
1. Zobe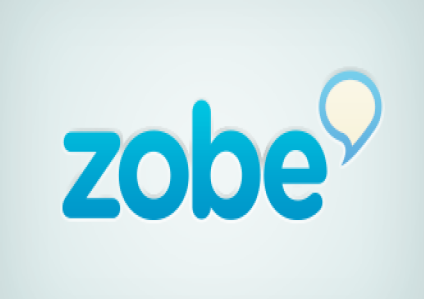 This is the easiest room to use without a doubt as it doesn't even require a login or sign in. Google the name of the room, find it on the internet, visit their homepage and just input a few details to start meeting and greeting people from all over the world. But, that doesn't mean you don't have to register. It is totally up to you. If you want, you can provide account details and register each time you want to talk to people.
There are public spaces, wherein you can converse with a large number of people. Zobe also has private char rooms wherein you can have more in-depth conversations with people you find similar to you. This room allows you to interact with friends as well as strangers. Not having to register ensures security and privacy. The name that you use to sign up with will be your username. The other details which are asked are age and gender. Once you input those, you are good to go on this website.
2. Chat Avenue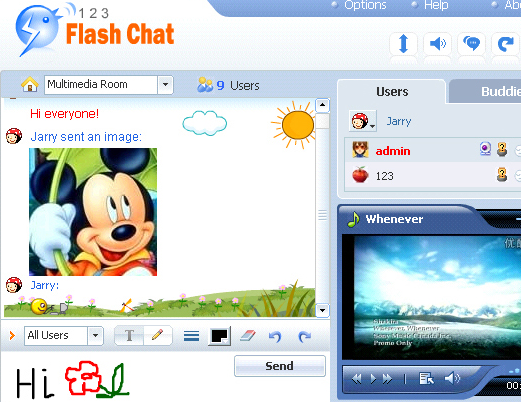 Chat Avenue is an older platform that has been here for a while. Set up when the initial craze for online spaces was on the rise, this platform has weathered tough times to still be here. It is better established when compared to the others due to the fact, it has been here longer. There are a lot of features which it offers. Different groups are separated by topics discussed, age, gender, and even other variables such as sexuality and preferences. Just choose the topics you want and hop right in to have conversations with people from around the world.
3. Teen Chat Rooms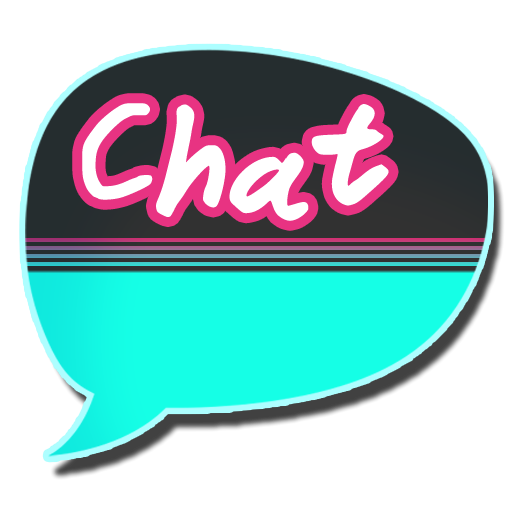 Set up in 2003, this one is also one of the more well-established sites on this list. Built especially for teenagers, this website welcomes people aged between the years of 13 and 19 with open arms. As one can enter and use the service without registrations, this service is safe and secure, and is hence, a great option for kids and teenagers. Basically, it works as a space run for teenagers, by teens. It makes use of the 123 flash software to be a fast and reliable chatting option for teenagers for Online Chat Rooms. One additional feature is that the rooms have an option for audio talks, by using your computer's webcam and microphone functionalities, and is hence capable of providing you with a hands-free experience.
Also read:
The site also has a quite unique design and is also incredibly easy to use. The homepage houses several teenage chat rooms which you can join right away, making it extremely user-friendly. The environments are moderated by volunteers to ensure the decency and safety of the people taking part in the conversations. Due to this moderation, this is also one of the safest sites for kids. As a parent as well, this is one space you needn't be too worried about your child's frequents.
4. Moco Space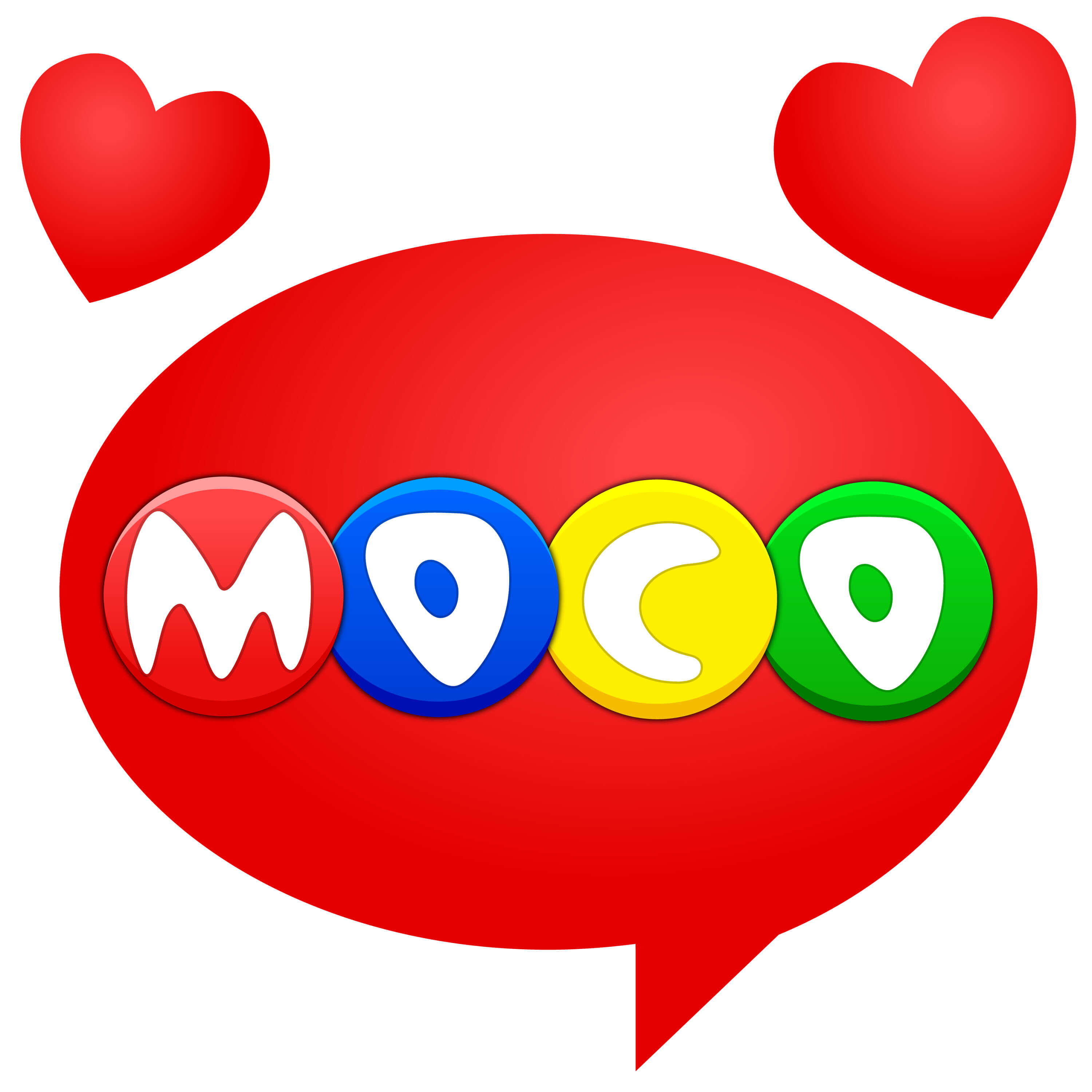 I'm sure all of you remembering all the good friends you made while playing games? When you are indulging in a game, a friendly side of yours comes out automatically. This makes it a whole lot easier for you to interact with people and make new friends. This is one of the biggest reasons why we make friends on the playground! Well, this particular chat room understands this equation perfectly. There are several games for you to choose from. Go check them out, have a go at them and realize why people prefer this quiet space over the larger, fancier options.
5. ICQ Chat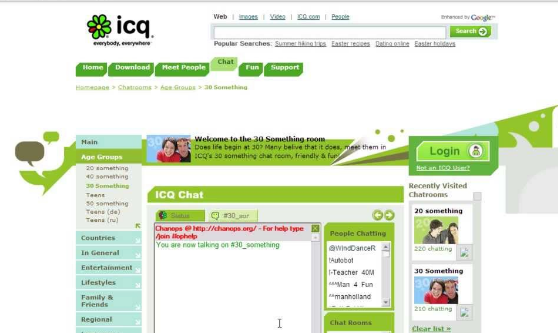 ICQ is one of the old platforms that has really stood the test of time. Several people are dumbfounded by the realization that it still exists today! It was one of the main chat rooms once upon a time before space got so competitive. But that isn't to say that it has lost all of its charms. They have several great chat rooms that are available for free and still provide great platforms for you to make friends in. The best thing about having been in the business for so long is that they know what works. Hence, the website is easy to navigate in and utilize effectively. Being one of the oldest chatting tools ensures that a lot of old online chatters are still on this website looking for new friends, making this a really happening website. It also offers privacy to chat with strangers which helps you hide your name and your location. It has multiple Chat Rooms online on their web app.
6. Chatroulette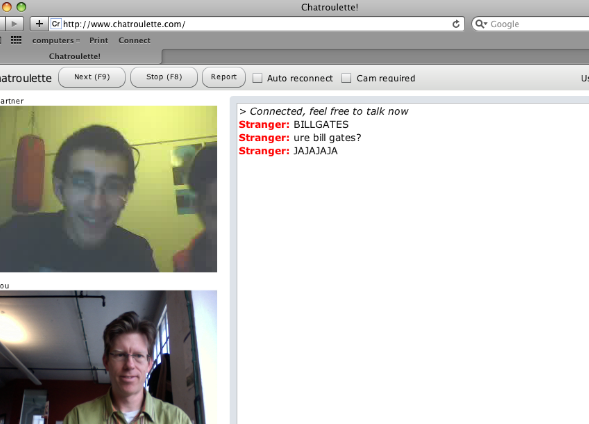 This random aggregation of chat rooms makes for great fun. The option for text and video chats also spices things up. Being one of the most popular chatting and video chatting platforms ensures that the website has a lot of traffic and this, in turn, ensures that you will always find someone with similar interests here. Just click a button, search for what you want, and join in on the conversations to make new friends and meet new people. The super-simple video chat options make it easier than ever to have a video chat as the interface uses Adobe flash player which is always present on a PC.
7. Camamba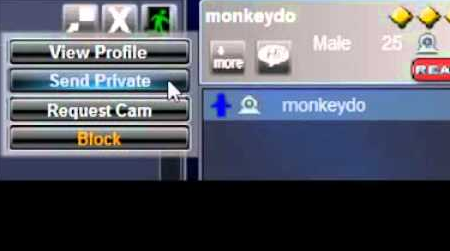 This new video chat platform has been gaining a lot of momentum recently, thanks to its simple user interface and even easier access procedure. Video chatting has been becoming popular for a while now, and this is one of those websites that used that popularity to launch itself and attract traction on the internet. The options on the site are simple, easy to follow, and have very few glitches. Hence, people automatically gravitate towards this site. This is a great place to check out if you are in the mood for some company.
8. Tiny Chat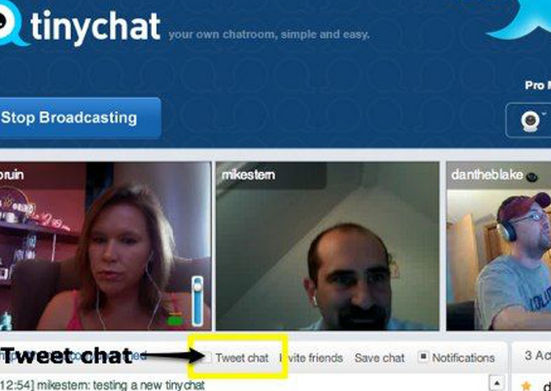 Tiny Chat is a new chat space, that has been gaining a lot of attention due to the large volume of people on it, and also due to all the interesting chat rooms, it has on it. Allowing for both textual and video chat, this interface is a great one for a beginner because it has a lot happening on it to keep things interesting, without getting too much for a beginner. Not having to register is another benefit it provides.
9. VPChat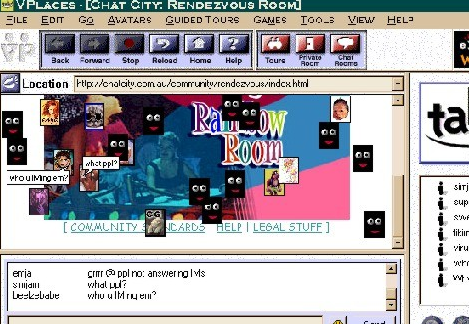 Like we already discussed, a playground is a great place that incubates friendships. We all love playing games and games inspire us to talk to new people, while in the process of playing. This ensures conversations will take place, and this, in turn, creates opportunities for people to interact and really connect with each other. This chat room has taken an effort to integrate games and chats seamlessly, allowing people to meet and engage in real conversations, revolving around a plethora of options.
10. 321 Chat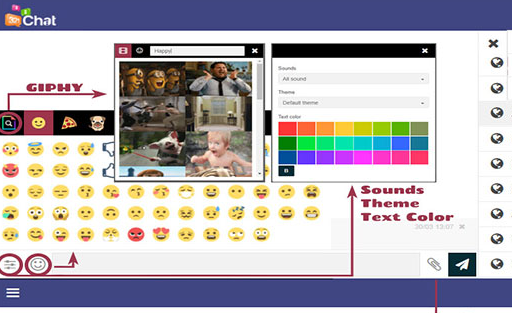 321 Chat has remained active for over a decade by offering webcam chat rooms that do not require any form of registration. There are over 14 different types of room which cater to the need of almost every type of individual out there. The distinctions for groups are made on the basis of age, ethnicity, sexuality, and even topics. It also has several specialty rooms which include conversations on niche topics. The well-designed user interface makes you feel at home soon enough. It also allows for one-to-one and group chats, and hence, rest assured of the fact that you will be making a lot of friends via this chat room.
Conclusion
A chat room provides you with an avenue to meet, greet, interact with and become friends with new people, from all walks of life, and all over the globe. While they are a great way to have diverse friends from different areas, ways of living, and mindsets, be careful of how much information you spill out and also how much you trust them. Always make your own safety a priority. Also, don't forget that the real world out there is also a great place to meet people, and hence, go out there and interact with people to form lasting relationships. Have fun chatting with people, and stay safe doing so, guys!