In this guide, I am going to explain how to disable Bluetooth a2dp hardware offload. If you are not aware, A2DP is a sound profile that is used to transfer the high definition sound from a device to an output such as a Bluetooth speaker, earbuds, etc.
Every Bluetooth device consists of many protocols, carrying sound signals wirelessly to the speakers or headphones. These protocols or profiles define the quality of sound that you hear.
Bluetooth profiles determine the features and functionality that a device supports when it connects to another Bluetooth device. To be able to enjoy the latest features, ensure that both of your devices support the same profiles.
The majority of current smartphones allow you to disable Bluetooth A2DP hardware offload. So, if you want to turn off A2DP hardware offload, continue reading further. But before we jump to the solution, first, let's discuss A2DP hardware offload meaning in detail.
What is A2DP?
A2DP stands for Advanced Audio Distribution Profile which is one of the oldest sound protocols used in Bluetooth devices. It's one of 4 Bluetooth profiles that is responsible for transmitting high-definition sound to a wireless output device such as a speaker, headset, etc.
With A2DP, the quality of sound is much superior compared to HSP, HFP, and AVRCP. But in order to enjoy the sound, your output device must be A2DP enabled which simply means it can read the A2DP signal sent by smartphone, computer, etc. Here are some features of the A2DP Profile:
High-quality sound with maximum details.
No delay between input and output response. This makes it perfect for HD gaming.
No distortion in the sound.
Works with most of the latest smartphones.
Allows you to control the output device through AVRCP (Audio/Video Remote Control Profile)
In-built in the latest Bluetooth 5.0 and 6.0 smartphones
What is Bluetooth A2DP Hardware Offload?
As I stated at the beginning of the article, most smartphones from the current generation consist of an A2DP profile. Since it's the era of wireless earbuds, soundbars, etc, mobile companies tend to equip their devices with this Bluetooth profile.
Unfortunately, on some phones, it's hard to use this profile which is why sometimes you may be unable to connect your new wireless sound device to your phone. This is when you need to tweak the Bluetooth A2DP hardware offload settings to enable the sound profile.
How to Turn Off A2DP Hardware Offload: Step-by-step Guide
Mind you, this option is not present in the setting menu by default. To find it, first, you must enable the Developer mode. Here are the steps you need to take:
Click on the ⛭ icon to launch System Settings. 
Scroll down to the bottom and tap on the About phone option. 
Once again, scroll down and locate the option named Build number. 
Tap on the Build number 7-8 times to enable the Developer mode. You will get a flash notification saying You are a developer now, once you are done. 
Now, go back to System Settings once again and tap on System.
Tap on Advanced and choose Developer options. 
Scroll down and find the option that says Disable Bluetooth A2DP hardware offload.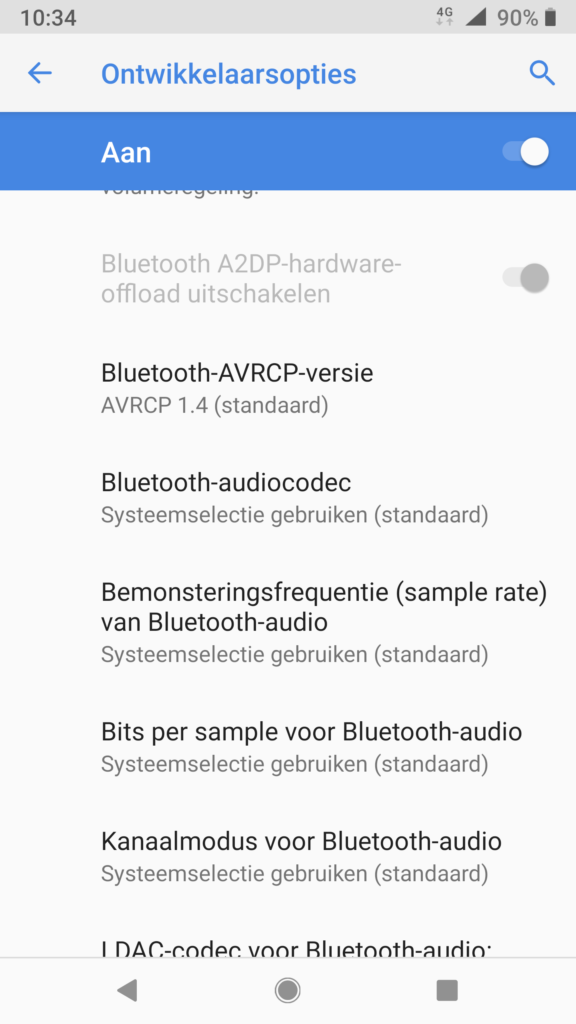 Mind you, if the option is displayed in grey, that means your device may not support it. In that case, wait for the next update from your phone manufacturer. There is a chance you might get the profile in the latest update.
Tap on the toggle switch to disable the setting and restart the phone.
Connect your wireless sound device to your phone and check whether you are able to listen to the music or not.
Note – If you are unable to find any of the mentioned options in the settings, simply use the search option within the settings and find the required option.
Conclusion
As you could see, it's not very tricky to disable Bluetooth a2dp hardware offload option. All you need to do is find the developer option and the rest is rather easy. Also, to be able to control this setting, you don't need to keep the Developer option on. It makes your phone vulnerable so it's the best idea to turn it off immediately once you are done with it.
In case you are unable to find this option, please contact your manufacturer or check out the technical forums on the manufacturer's official website. I hope this information was helpful to you and now, you will be able to enjoy high-definition music on your wireless sound device without any interruptions.