The Linksys router series is wireless network devices made by Cisco that is easy to set up at home or any other place by the user. A nice feature that these routers bring, no matter which one of the series you choose, is the web-based setup and configuration interface that you can access by entering the default IP address in the browser. But before you do that you must have some basic things: Linksys router, DSL or cable Internet connection and Ethernet cables.
Linksys Router Login
First of all plug in your Linksys router to a power source and let it initialize. After that you have to connect an Ethernet cable to a Cable modem port with one end, the other end you must plug into the router where it is marked "the Internet". Take a second Ethernet cable and plug it into the router in one of the ports labeled "1-4" with one end and with the other into your laptop.
Also Read: 192.168.1.1 Login
After you have connected your laptop to the router open up a browser and type in the default Linksys IP address 192.168.1.1. This will bring you to the login where again you have to introduce the default username and password "admin," if you have problems try leaving the username blank, for some versions the username is by default blank.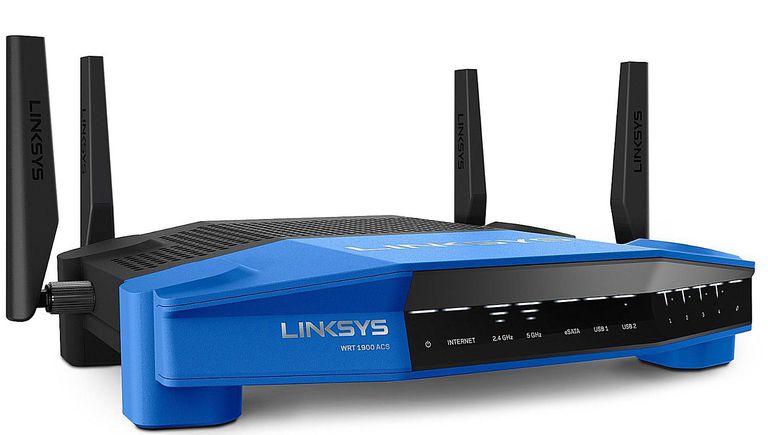 Linksys Router Login and Modem Issues
Once you are logged in you will be redirected to the control panel. In the web-based interface control panel, you will have several tabs that are basic functions on all Linksys routers. They are similar with slight differences depending on the version and variant. Next step, you have to change the "router name" on the Setup page with something unique of your choice. Click the "Save settings" and then select continue after the "Settings are successful" dialog appears.
Choose the wireless menu tab and change the "Wireless Network Name" or "SSID" to a name that you desire (you can choose the same name as the previous). Disable the "Wireless SSID Broadcast" and then save the settings. In the wireless security menu select the WEP menu option and select "128 bits 26 hex digits", and then type your password that has to be between six to 8 characters, select Generate and then save settings.
You can also filter the MAC addresses that can access the network by choosing the "Wireless MAC Filter," through this, you can choose a list of computers that can access the network. The final step is to choose the "Administration" menu tab and change the default Linksys router password with a new one and a different one than for the WEP. This is a basic and simple configuration for the Linksys Router, and it is similar to all other Linksys G models and wireless models.
How to Setup a Linksys Router | Cisco Linksys Router
The versatility of the Linksys router, together with their user-friendly web-interface makes them easy to use and preferred to other wireless routers out there. Linksys is a most popular security company. If you are using Linksys Router then this article will help you to access Linksys Router Admin Page.
The Linksys Router is a wireless network device manufactured by Cisco that was produced in more series like the WRT54G series and the E series with a lot of variants. The router can support both wired and wireless connections, and it has to be set up at home or the office by the user.
The Linksys Router has a feature that can run third-party firmware like OpenWrt, Tomato, and dd-wrt. The user can update the router firmware, although it is not recommended to update only in case of errors or in case you want a new feature that can be obtained only through upgrading. The updating resets all your router settings to the default ones so you must be careful to note all your settings if you do not want to lose them.
Linksys Router Features
Some of the most popular Linksys routers that have brought new features on the market are:
The WRT45G router is the first Linksys router to run third-party firmware. It also supports the 802.11g wireless data links with a speed of to 54Mb/s.
Linksys WRT610N is one of first dual-band wireless routers on the market, and it can support 2.4 and 5 GHz wireless users. It can work as a network storage device if it is connected to an external hard-drive through USB.
Linksys e4200 router is part of the E series, and it supports dual band N at 2.4 and 5 GHz with a maximum speed of 450 MB/s. It has a built-in UPnP AV media server and USB 2.0 port that can support external network storage and it is compatible with 80211.N, g, b, and a.
Linksys RouterAnother feature that the Linksys routers have and that is user-friendly is the web-based interface configuration and set-up of the router. When you have connected the device via the Ethernet cable, you can access the set-up interface by entering the default ip, username, and password. Depending on the version or variant there are slight differences between the menu tabs, but overall it has the same functions like:
Set-up
Wireless
Security
Access restriction
Application and gaming
Administration
Status
All these Linksys router functions provide both basic and advanced settings, and they help you filter, secure and control your wireless network.
The Linksys routers provide a wide range of functions for home and office usage; they are easy to set up, they come in different series, with different variants and different features for any user.
No matter what variant you chose or what series, the routers are easy to set-up, and they suite most needs when it comes to wireless network. If you are ready to upgrade the network in your home, then the Cisco Linksys router would be a good choice.
Linksys Router Login
Log into the router and configure the security settings
Disable the DHCP server on the router
Instead of plugging your LAN cable into the wan port, plug it into one of the four LAN ports
It should now work as an access point.
Main Features of the Linksys Routers:-
Setup – Entry path for setup of DHCP service, Internet connection, DDNS, MAC Address clone, and advanced router features.
Wireless – Entry path for wireless security, MAC filtering, and both basic and advanced wireless settings.
Security – Configuration of the router's firewall and VPN feature.
Administration – Supports router access setup, security and logging features, Linksys router default configuration restoral, and diagnostic testing.
Status – Shows the local network, wireless network, and router status.
Other devices for Linksys
Linksys Range Extenders Support
Linksys Access Point Support
Linksys Bridge Support
Linksys Print Server Support
LinksysNet cam and Surveillance system Support
Simply call one of our Expert Technology Experts, and we'll handle everything. The whole methodology is straightforward. After you call, one of our Technical Experts will take the remote control of your PC to enter the Linksys Devices web interface, to get it configure. By utilizing just your Internet association, we can settle simply about any issue you might have huge or minor. Additionally, by calling CREATIVE CLOUDS, there's no compelling reason to go out to a neighborhood uphold focus or welcome strangers into your home.