Kik Messenger, one of the most used and trending messengers of 2010, When Kik messenger was released, it was the only messenger on the Internet from which people can communicate with their friends and family for free. Slowly and Steadily, they are started rolling out updates with new features where people can send emojis to another person, they can share media and other files with other people and after few years they released Kik Messenger for Android and iOS. As in 2013, Android and iOS platforms were trending, everyone was buying Android and iOS devices.
They also released Kik for PC too, Kik online messenger is a new PC-based app that lets you access Kik Messenger online from the comfort of your personal windows based computer. In 2015, applications like Facebook Messenger, WhatsApp, Telegram, etc started trending due to their awesome features and most of the Kik members switched to applications like Whatsapp, Hike, and Telegram because Kik has a limited amount of features. Now, the question comes where have totally switched to other messaging applications but they want to Delete Kik account and they are facing problem while deleting their Kik account. In this tutorial, we are going to show you how you can delete your Kik account in no time.
How to Delete Kik Account
You can deactivate your Kik account for temporary purposes as well as you can also delete your account for Permanent and in this guide, we have shown both of these methods.
Delete Kik Temporarily
So before deactivating your Kik Account for a temporary purpose, we have to first verify our Email Address.
Now open Kik Messenger from the phone(Android or iOS).
Login to your account and tap on the Settings symbol

It will open the Settings menu, tap on the Your Account option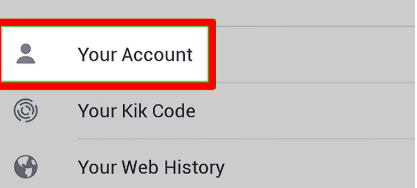 Go to your Username and save it in any text file as we are going to need it in further steps, also make sure to review your Email Address.
Once the Email and Username is been stored and reviewed, you have to now visit this link: "https://ws.kik.com/deactivate

"

in order to delete your Kik account online.
When you will open that page, it will ask you the email address of your Kik account, you have to enter the Email in the input box and click on Deactivate button.
Now you will receive an official mail from the Kik website to confirm deactivate your account, you have to open your mail and there you have to click on Deactivate button.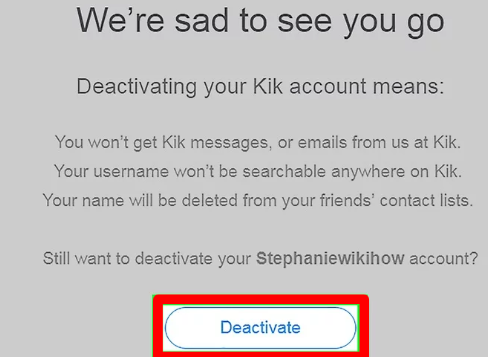 So finally we have temporarily deactivated our Kik Account and in the next method, we are going to show how you can delete your Kik account permanently.
Delete Kik Permanently
In this method we are going to deactivate Kik account permanently, it means once the account is deleted, you won't be able to access your account ever again in the future, all the files, chats, and other media will be deleted from your account permanently, so make sure you have a backup of all your files before taking this step.
Open your Web Browser from your mobile phone or PC and go to this URL: https://ws.kik.com/delete

.

It will ask you the Username, Email, and reason to leave Kik Messenger, you have to fill in all the inputs and click on the GO button.
Again you will receive an email from the Kik official website regarding your permanent deactivate of your account. So if you want to deactivate it then click on the Permanently Deactivate button and your Kik account will be deleted permanently. After this, you will no longer have access to your account, chat, files, and media.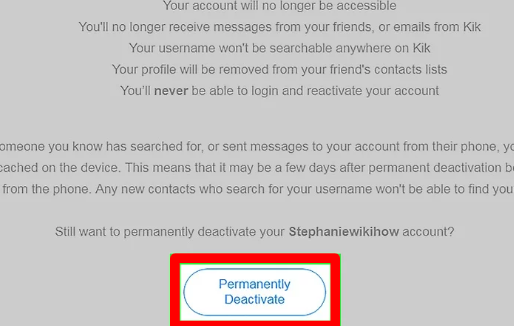 So this is how we can permanently deactivate Kik account. So in this guide, we have shown you two methods on How to delete Kik account which are personally tested by us.
If you face any problem while following this guide then you can let us know in the comment section below and we will help you for sure.