The world, as we know it, is connected over the internet. Several applications of the internet make our lives easier and manageable. Thus, the rate at which we access the internet also matters a lot — having inconsistency in internet speeds can alter the overall experience of having an internet connection.
Thus, to improve your internet speed, there are some ways through which a person can improve their internet speeds. It might be little tweaks and changes that you can carry out on the modem or router or the overall network itself. All of which are given below.
Today's fast technology world a fast speed internet connection is what everyone needs. But most of the times users have a problem that their Internet connection is slow. If you are also looking for how to speed up internet in windows 7 or how to speed up internet windows 10 then here are the methods you can try to increase the speed of your Internet connection. Not just Windows Device but we will also look towards How to speed up internet on android and How to speed up internet on ps4.
5 Common fix to Boost your internet connection speed
1. General fixes.
Understanding what is causing the internet to drop its speed is essential. You will have to check out various aspects such as the network range of the internet, interference with the network, the software of the device that is being used with the internet, and so on.
The most basic test that you can try out is to check "speedtest.net" Check them out to see what your internet speeds are and how fast is it? At times, lower the internet connection can be the ultimate reasons for all your disrupted connectivity issues.
Check out different internet plans that could give you the satisfaction of how fast your internet speed should be. Your internet service provider will hand out several plans for you to choose from. You can select the ones that fit the budget and the speed for the same.
The proper placing of the router also matters. You need to distance the router form the electric device such that you know as to what might be the appropriate distance to avail faster connectivity. Do ensure that you connect these devices to the router directly without any disruption. As at times, objects that might come in between the connection often disrupts the connection entirely.
Also, try to reduce the number of connections established onto the connection, higher the number of connected devices, slower is the speed. So, try to manage it equally. But then if you are looking for dedicated high-speed internet connectivity, use an ethernet cable such that you are directly connected to the internet connection without any lag or distortion.
2. Hardware fixes.
Often your internet connection might be stable, but the router or modem used for broadcasting this signal might be weak. Thus, sits necessary to understand the age of the router and update it regularly. Once in a year sounds good as the routers are changing periodically and updated with newer and exciting features.
Or you could switch the router off and then unplug it for a couple of minutes to establish a faster connection. It is a typical case where the connectivity drops and you would have to switch it off and then restart it after a couple of minutes. It ensures that the new connection made is distortion-free and stable.
Routers might be hardware devices that give out the signal for an internet connection to take place. But then updating these hardware boxes is crucial. Keep them up to date such that you have stable connectivity options at all times without any lag or connection drop.
Based on your problem, whether it might not be associated with the router or the software, then try replacing the router to a different position. Often, at times, the signal is blocked by walls or other foreign n obstacles that don't allow for routers to work as projected.
Thus, reposition the routers adequately. Also, you could use router extenders such that a strong signal can be passed through throughout that particular area.
3. Software fixes.
Many times, the internet connectivity loss might not be because of the router but because of the device that you might be using. Thus, it is advised that you keep them updated such that newer updates bring about higher connectivity speeds and keep the network secure and established at all times.
It's a good thing to run an antivirus scans on your computer such that malware that might be stopping you from accessing the internet is eliminated. Also, update your antivirus for availing more excellent protection at all times.
Never forget to update your browsers. They are the primary source of accessing the internet. Thus, with regular updates, you can expect more excellent connectivity and a secured connection established at all times.
Alter the cookies, eliminate cache, and check-in with the toolbars of your browsers. These things do take up a significant chunk of your internet speed, and mist of them could prevent your connection to be established. But an alternative would be to use a VPN. Works seamlessly and effectively in ensuring that you get the best connectivity by rerouting your IP address.
4. Altering DNS settings on windows.
Often the problem with internet connectivity would lay within the DNS settings of the system. Thus, if you wish to change it, then, follow the steps given below.
Step 1 – open control panel.
Step 2 – then open network and sharing center.
Step 3 – click on change adapter settings.
Step 4 – click on the connection that your system has a secured internet connection.
Step 5 – choose "internet protocol version 4 (TCP/IPv4).
Step 6 – then hit the properties button.
Step 7 – head onto the DNS server option.
Step 8 – use the DNS server of "8.8.4.4" from the default "8.8.8.8."
Step 9 – Once entered click on "ok" and then on close.
5. Buy a new router.
Despite trying out all the options given above, you will have to give up on the router and buy a new one. But before buying a new one, it's mandatory to check out how well it can handle the connectivity and ensure that the connection stays stable as well.
Hence, the above-given solutions are temporary fixes that you could try out to enhance the connectivity speeds. Also, for a more comprehensive solution, you can upgrade your plans to match the type of speed that you require. Thus, contact your internet service provider to know more about the new plans and choose the one that suits you the best.
10 Ways how to speed up Internet Connection
These are methods you can try:
Scanning of virus or Malware infection
If you are looking for how to speed up internet on Windows 10 device, then the primary task you have to do is scanning your system against viruses or malware infection. The reason of slow internet on your system can be the presence of some virus infected files or programs on your system. After checking if the scan shows the presence of some infected files or programs then you need to repair them. After repairing those infected files, you will see the speed of your internet connection has increased.
Check your data plans
If your system doesn't have a virus or infected files after that you have slow internet problem then the problem can be your data plan. In that case, you should first check your data plans. You can check the speed of your internet connection on a site like http://beta.speedtest.net/ it will tell you the Download and upload speed of your device. The value you get from here checked it with your data plan value, and if it matched then there is no problem, you are using a slow internet pack. But if the value differs then complain, you service provider.
Check your Modem or Router
Before proceeding to step further, check your Modem or router device. The main cause of slow internet connection are these devices. Many users have questioned how to speed up internet in windows 7 the simplest answer to this question is check your modem or router device. If you find that your router is creating the problem, then change it. The NETGEAR D6300 (AC1600 Dual Band Gigabit) can be a good choice as it provides a huge wireless range that speeds up wireless internet connection along with all other cloud-based features. After changing the modem or routers, make sure your modem is well-suitable with your internet plans.
Check for System Interference
Sometimes the problem of the slow internet can cause by the interference of Antivirus programs or any other programs installed on your system. Yeah I know it is irritating but can be easily solved. You just have to switch off programs one at a time and try a speed test after switching off the program. But after having speed test don't forget to switch on every application program that switches off. Your answer to how to speed up internet windows 10 is this. You just have to check which application program is creating problem and switch if off that's it.
Fixing of WIFI signal
Wireless internet connection is a great experience but can be problematic when it gives errors like Slow Internet. If you have checked your router and found that it is working properly, then the problem can be with wireless signals. To solve this problem, you have to tweak or boost your router. Try to find a perfect location for your router from where you can get better signal strength. You can also increase the range of your router by using DIY tricks.
Use command prompt
Many users have questioned how to speed up internet connection using cmd so here is the answer for you all. Just type the following commands in the command prompt window, and the problem can be solved.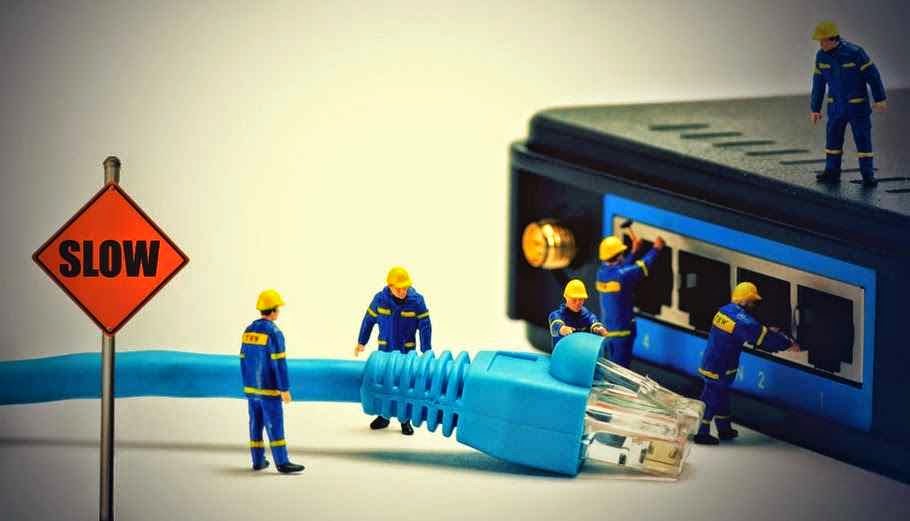 The steps are:
Step 1. Open the command prompt on your system, as Admin.
Step 2. Now type command Netshint top show global and hit enter.
Step 3. After that type Netshinttp set chimney=enabled and hit enter.
Step 4. Now Netshinttcp set global autotuninglevel=normal and hit enter.
Step 5. Followed by this Netshint set global congestionprovider=ctcp and hit enter.
Now close the command prompt window and check the speed of your internet.
Ping your Connection
How to speed up internet in windows
A simple solution is a usage of- the Ping command. You need to the continuous reply of pinging your connection; it will solve the problem of slow internet.
Open a command prompt on your system and run it as admin. Now type ipconfig command to find the network configuration of your system. Here you will see the default gateway address of your network. Now type ping –t (default gateway address), here we type this ping -t (192.168.42.129). Now minimize command prompt tab and run your internet. Whenever you're browsing internet continuous reply of ping connection, this will increase the speed of your Internet.
Also Read: iMessage for Windows 10
Try a New DNS server
The problem can also be caused because of the DNS server. A DNS server converts websites addresses which are user-friendly into IP addresses which are computer friendly. So to solve this slow internet connection problem you can try a new DNS server and restart your network. It methods works in most of the cases, you should also give it a try.
Change your Channel
If you live in a complex or an apartment with crowded neighbors and every one is sharing the same signal space, then this can be the reason of slow internet. To solve this error, you have to switch your channel so that you can enjoy the high-speed internet without any problem. There are many applications like WifiAnalyzer, Wifiinfoview is available which can help you in identifying which channels have fewer users. As newer router will automatically select the less crowded channel. So if you are using a new router then reboot your router, it will automatically select the channel which has least number of users.
Use Powerline network adapters
If your question how to speed up internet windows 10 has still no answer, then it's time to turn your old router into a brand new WIFI-Repeater. To convert router into WIFI repeater, you need Power line adapters. Power line adapters are always the best option to extend the reach of the wireless network. This will solve the problem of slow internet. After turning it into WIFI repeater you can check the speed of your Internet connection speed, it will faster than ever. Also these steps will work for you if you want to know the answer to, how to speed up internet on android phones or devices.
That is all about how to speed up internet on android or windows device. We hope all the above-explained methods help you out and now will know how to speed up internet download speed or how to boost internet speed on android. We have tried to cover every important method to solve the problem. But if you have any other methods that helped you, please do share with us in the comment section below.
Thanks for Reading!!