If you are a gamer then you must have heard about Minecraft. it was developed in 2009 by a Swedish programmer as an independent environment where users can create anything and everything from scratch. there is no specified genre to Minecraft. After its release, Minecraft Windows 10 Mods went viral because of the addictive nature of the game that suits every kind of gamer. Every day hundreds and hundreds of Gamers were added to the Minecraft network. the concept of the game was pretty simple, just make holes in a virtual landscape to collect blocks. this game is not only constructive but also packed with action. After constructing your building port or city, you have to defend it from Monsters And Zombies. You can either hide behind those walls you or choose to fight those sniveling attackers with the weapon you can harness. 
Several modes like Survival mode, Creative mode, Hardcore mode, and Spectator mode make it an excellent choice for rookies as well as pro-level gamers. According to Mum's Advice Forum, "Childen live, sleep and breathe Minecraft." Its popularity is also because of its platform openness. Minecraft is available for Windows, Mac, X-Box, and Playstation as well. The reason it is highly addictive is because of the add-ons that developers introduce from time to time that change the gameplay experience by changing the look and feel of the environment by manipulating various visual elements or features. 
How to Install Minecraft Windows 10 Mods
Recently there has been a lot of questions arising about Minecraft's gameplay in Widows 10's S mode because it locks down the third party access to windows features. The user can only use legitimate apps that they download from the official Windows app store. Luckily windows app store has Minecraft in it which makes it a legitimate windows application. So, windows 10 users don't have to worry about their Minecraft's progress on windows 10.
What is Minecraft PE Addons?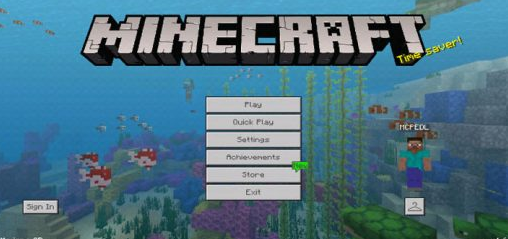 With the introduction of Minecraft PE, the games now have access to their Minecraft kingdom on the tip of their fingers. The pocket edition is a lightweight version of the game designed specifically for mobile game lovers. The concept remains the same as the original Minecraft. The world is divided into biomes and has a specific feature of each. Unleash the creative architect within you and create a world that pleases you the most. Different biomes have access to different resources. Some of the biomes of Minecraft are:
Mesa

Tundra

Hills

Mountains

Plains

Beach

Desert

Forest

Dark Forest

Swamp

Jungle

Birch Forest

Cold Beach

Stone Beach
Installing Minecraft PE add-ons:
There are two ways to install add-ons to change your Minecraft gameplay experience. Both are discussed below. Try the method that suits you the most. Both are equally efficient and can change your in-game experience of Minecraft.
The first method is to download the raw add-on file separately. 
Go to your web browser and visit google.com
As soon as the search opens. Type in, Minecraft PE add-ons download.
Open the link stating mcpedl.com

Here, select from a wide range of add-ons that suits your gaming style.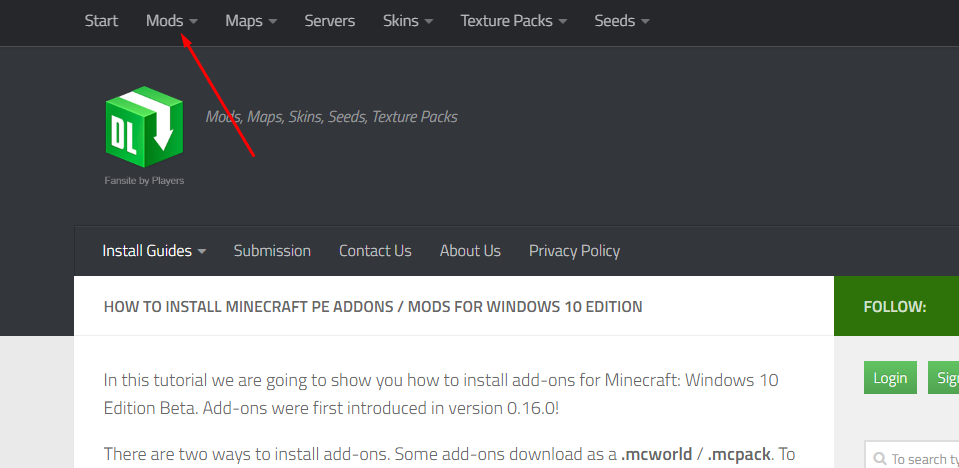 Click on download links at the bottom of the page. Click on any one of them to download the *.mcworld file.

As soon as the download finishes, visit the download directory and double click on the file you downloaded.

It will directly get imported to your Minecraft game.
Also Read: Games Like Kahoot
The second method is to look for add-ons within the game. But for that, you have to download the resource pack and copy it to the specific directory.
Download the zip or RAR file of the add-on from the internet.

Decompress the file using 7zip for WinRar.

To decompress, right-click on the file and open it with 7zip or WinRAR.
Select your desired directory to extract the files.
Sit back and relax while decompressing is being done.

Once compressed you will find the extracted folder within your selected directory.

Copy this folder and taste it to the location mentioned below. C:\Users\USERNAME\AppData\Local\Packages\Microsoft.MinecraftUWP_8wekyb3d8bbwe\LocalState\games\com.mojang
This is the default location where all the resource files for addons are pasted. The resources are of two types. One is behavior and the other is textured. Make sure you copy them in correct folders.
If there are some additional resources paste them in the same location but inside the resource_packs folder.

To configure it in the game just start Minecraft and click on "Create New World."

A new window will appear where you can see the resource packs and behavior packs button.

This is where you will find your desired add-on for behavior and resources.

Just click on it to import in your game and make your experience more adventurous and lively.
The bottom line is that Minecraft is an amazing game that can make anyone get addictive to it. The PE edition is all about taking mobile gameplay of Minecraft to the next level. It is completely customizable and supports upgrading by manual means. This is the reason it currently has a hundred million active users and still counting. The simple instructions and elegant gameplay make it an excellent choice for those who want to play games constructively.