Kik messenger is not just a quick messaging app; there are tens of other features to explore. You can use Kik to get connected with your friends or relatives by creating just one Kik login online, as it is one of the easiest ways to connect with everyone by choosing only a username.
It runs on Android platform but is also available for Windows PC and Mac. The functionality of the app is very similar to WhatsApp, Hike or Facebook messenger. Kik messenger is a worldwide community of 100 million downloads, and popular not only in the young generation but older generation also loves to use Kik Messenger online.
Kik Online Login: Best Guide to use Kik on PC
Now the best thing which you get in this App is its simple interface, accessible and adequately reachable features.
In this post we are going to share all about Kik Messenger, How to download, install and how to create Kik login online.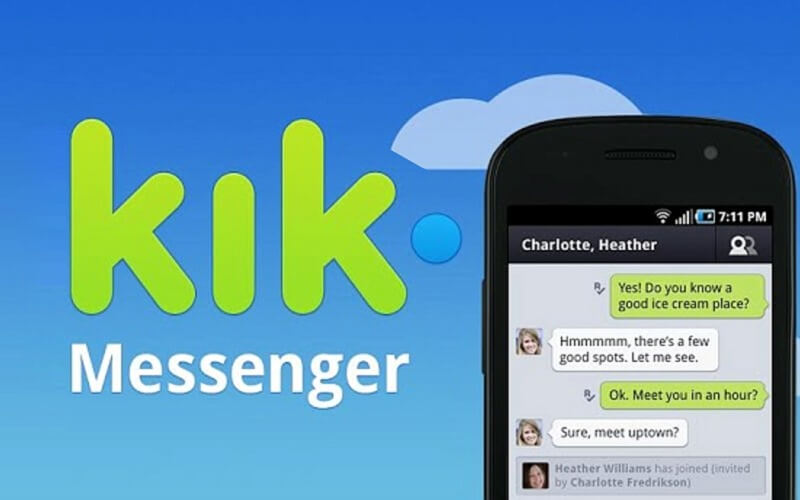 There are many reasons why you should use Kik online chat as your default chat app. Let's have a look on some of its outlined features.
Key features-
Kik messenger app provides you with complete privacy, as usage of this app doesn't require any phone number or any other real information, it just requires one username; also it doesn't reveal your real identities like Facebook or Twitter.
From Sending text messages to sharing any video, gifs, images is entirely free; that too within the chat window. The only requirement is a reliable internet connection through WiFi or cellular data pack.
You can create a group of your 50 friends and talk to them at once! This feature is another reason to use Kik login online. It also lets you play games in multiplayer mode and ultimately, chatting on trendy topics.
There are various filters available on Kik messenger which allows you to block or decline the request of the people whom you don't want to talk.
Kik has a built in web browser which allows you to surf the internet without leaving the app. Also, you can share your unique Kik code to other social media apps to connect with your friends globally.
How to download Kik for PC 2022?
To use Kik for PC login, you first need to download an Android emulator, as Kik doesn't run on Windows but it is not difficult to use it on your home computer.
Requirements to download Kik for PC.
Kik messenger app depends on the type of your emulator (Emulators are the software that allows you to use Android apps on your PC), So for the upgraded version of the Android emulator, you must have the compatible version of Windows, i.e., Windows XP or the latest version of Windows.
We recommend downloading an android emulator for Kik computer login through blue stacks.
Also Read:
Installation steps:
Follow the steps given below to download Kik Messenger for PC login.
Step 1. Navigate the bluestacks website on your browser.
Step 2. Search for the latest version of emulator for Windows and click on the download tab.
Step 3. Start the installation process once you have downloaded the file.
Step 4. Now, follow the instructions provided by the simple installation wizard guide.
Step 5. Use your Google account for the installation process, because of it
mandatory in next step.
Here, now you have your latest android emulator running on your Windows PC. Follow the given steps to download Kik for PC.
Step1. Locate Google play store on your Chrome browser.
Step2. Search for Kik, and click on the install button.
Step3. Once the installation process is finished, you can search for the Kik login online page in the bluestacks menu along with other apps.
Once the successful download and installation of the Kik messenger on your Windows are done, you need to sign up to explore denary of features of this amazing app.
How to sign up for Kik online chat?
Follow the simple steps mentioned below to create an account or sign up for Kik.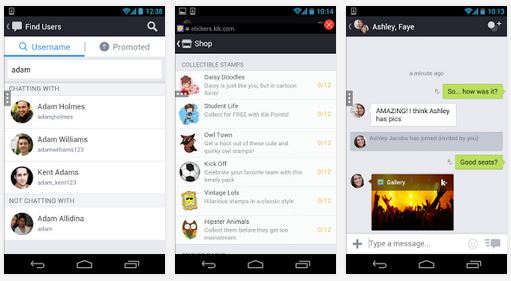 Step1. Search for Kik messenger under My Apps section of the bluestacks dashboard.
Step2. Launch the app by clicking on the application icon.
Step3. Now, you will be greeted by the Kik login screen asking you to register or perform Kik online login.
Step4. Click on the register tab.
Step5. A new window will pop-up asking for your details, fill all the mandatory details to create an account.
Step6. Type your first name, last name and choose a unique Kik username.
Step7. Enter your valid email address.
Step8. Enter your birthdate, and click on the register button to create your account.
How to perform Kik login online?
Once you create your Kik account, you can access Kik online login page using your unique Kik username.
Step1. Open the bluestacks dashboard menu, and click on the Kik messenger application icon.
Step2. Click on the login button.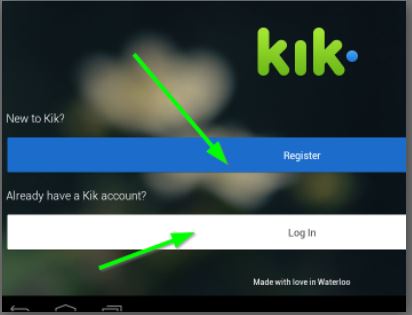 Step3. Now, enter your username and password on Kik login screen.
Step4. Click login.
At this moment you access all the features of this app and start instant messaging!
Innumerable messaging apps has certain risks involved. Similarly, Kik being the most popular messaging apps is not bulletproof as well. As the app was crafted with the principle of anonymity so that the real identity of users can't be revealed. This anonymity is good to the users interface if it is not misused, but if misused can create a lot of issues in personal lives of people. These situations can be overcome by these amazing Kik hacks and tools which will detect the back end data of the users and you will not even have to deal with Kik online login page.
Tool 1 – Kik hack
Kik hack is developed by the top hacking professionals, it has a very simple interface and is quick to download. Once you get access to this app, you can detect the registered username and password and read the chats. You can also edit their contact info, and they will never know about it.
Tool 2 – Social Hack
The Functionality of this app is very similar to Kik hack; it extracts data from the Kik servers and grants you access to anyone's Kik account. The only condition is that you should have the correct username of the person you want to spy on.
Tool 3 – Storify
Storify is one of the best hacking tool, which is a web-based software and works on Mac also. You just need the user phone number or the exact username whom you want to spy on. This is a convenient app for parents to keep a track on the activities of their children.
Tool 4 – Kik hack spy
Another great tool, to hack anyone's Kik account. This app grants you permission to access the exchanged messages between the target user and other Kik users. If you face any problem while using this tool, you can fix it using Microsoft. Net framework.
Tool 5 – SpyToApp
Spy app is an Amazing tool which provides the complete data on the activities of the target users. This app has some advanced filters by which you can determine if the target user is involved in any unethical tasks.
These are the top 5 tools by which you can spy on people who are cheating behind your back.
So this was the complete article on how to perform Kik login online with the best hacking tips if you face any problem or have any queries feel free to ask in the comment section below.