SvcHost, also called svchost.exe or Service Host, is very important windows service that is used to host multiple Windows operating system services. This is a required Windows file for Microsoft Windows and Windows apps that run on your PC. Here is a quick guide on how to Remove Svchost.exe virus.
This file can be found in either the c:\windows\system32 or c:\winnt\system32 directories based upon your version of Windows. Sometimes you noticed that some malware often uses a process name of "svchost.exe" to disguise itself. The initial system file svchost.exe is located in C:\Windows\System32 folder. Any file called "svchost.exe" found in another folder could be regarded as malware.
Also Read: How to Remove Nova.rambler.ru redirect 
Svchost.exe is the title of a generic host process for services that run from dynamic link libraries (DLLs). The valid file located in the C:\Windows\System folder checks the services portion of the Windows registry to confirm and record the services that have to load upon system startup. Many sessions of this file typically run as a system is operational, each session comprising another group of services.
The svchost.exe process is necessary for shared service procedures that operate on Windows machines. By sharing procedures, the whole consumption of resources necessary for conducting these procedures can be reduced and allow for more efficient computing. This method initially became popular during the creation of Windows NT as hardware was less powerful. The true SvcHost procedure itself was started with Windows 2000.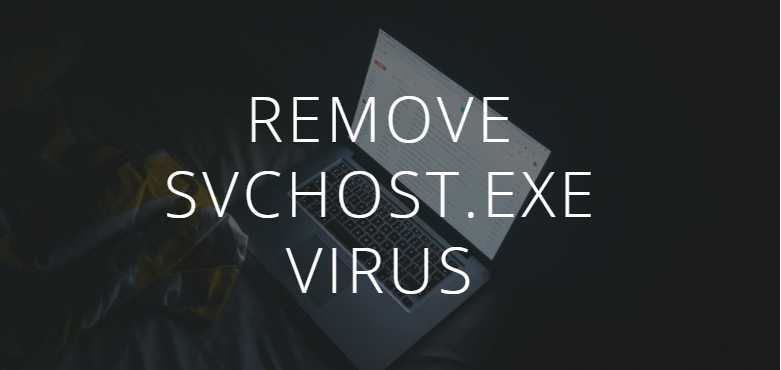 Svchost.exe is known as one of important system processes in Windows. As a fake Svchost.exe process, it's able to be discovered by some effective antivirus programs. Since antivirus program quarantine it and you can try to remove it automatically. Unluckily, your safety tool may not eliminate its components in any respect.
How to Remove Svchost.exe Virus
Having the normal signs of Trojan virus, the Svchost.exe virus can modify system configurations and consume lots of system resources to boost utilization of CPU up. What's worse, it is going to lead to Blue Screen error.
Inside this process, the very first step is to recognize the virus because there are many diverse varieties of computer viruses. It is a `sticky' virus such that even if you use a very good antivirus program to remove it, it can rebuild itself and keeps returning repeatedly.
By making use of a system scanner, you will be in a position to rapidly find rid of all of the pieces of this infection. Monitor its performance to make sure each of the infections is cleaned. If you've got this infection, you will need to eradicate it as best you can. Quite simply, you have to pay close attention to the several infections that are typical in the present and not too distant past.
The Svchost.exe often install themselves by copying their executable files to system folders and then modifying the registry. Here is the path of a registry that is modified by Svchost.exe.
HKEY_LOCAL_MACHINE\Software\Microsoft\Windows\CurrentVersion\Run
One of the main issues is, svchost.exe is a common process and malware problems name themselves svchost.exe. So it is difficult to detect and remove such malware.
But with the help of small trick, you can find malware. All you need to do is, open a task manager and find Svchost.exe. Right Click on it and open file location. If that file location is under C:\Windows\System32 folder then that is ok but if not then it is a malware or virus.
The Svchost.exe virus is distributed from many 3rd party softwares or downloads from unprotected websites.
(Solved!) How to remove SVCHOST.EXE.EXE virus
Please follow all the steps very carefully. If you have any questions, STOP and ask for our help.
To remove SvcHost.exe virus, follow these steps:
Method 1: Use ESET Poweliks Cleaner
Poweliks is one of the most popular and new security tools for Windows that will change security Settings in Internet Explorer automatically.
Step 1: Open Run and type inetcpl.cpl. Press Enter.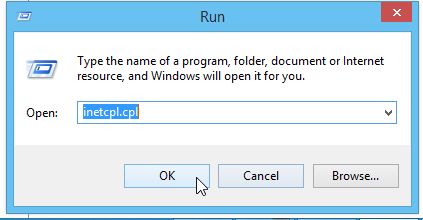 Step 2: Click on the Security tab > Reset all zones to default level button.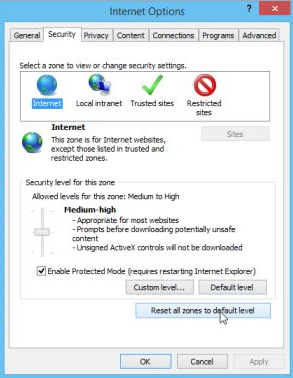 Step 3: Apply > OK.
Step 4: Download ESET Poweliks Cleaner on your Windows computer and open it.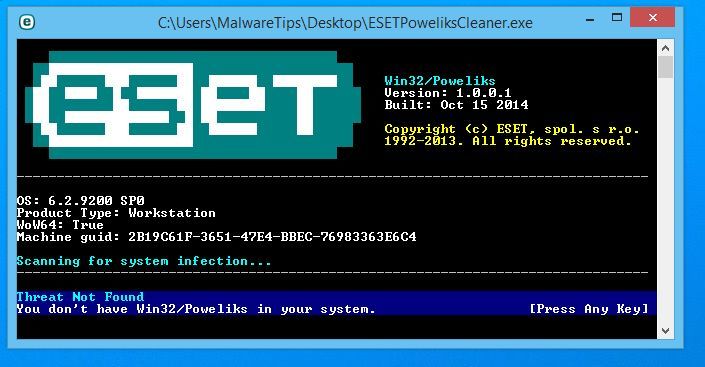 Step 5: You can see the main window and now it will search for any possible infected file or program.
Step 6: Once detected, press the Y on your keyboard to remove that virus.
Method 2: Rkill
RKill is also a popular security tool for Windows.
Step 1: Download Rkill and install it on your Windows computer.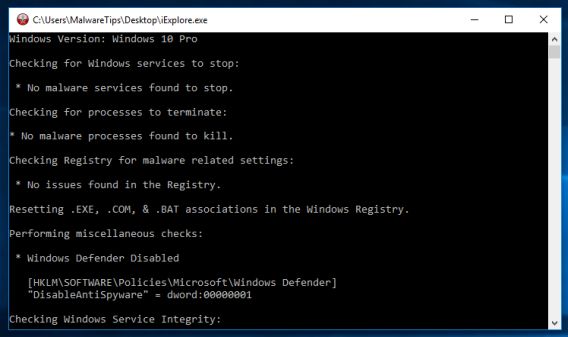 Step 2: RKill will now start scanning your system in the background.
Step 3: This tool will automatically scan your system and find all the malwares.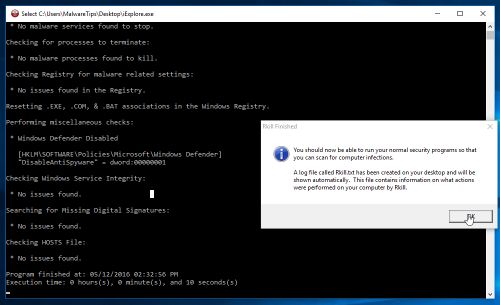 Step 4: Once, Rkill tool has completed a task, it will generate a log file and remove all malwares.
Method 3: Malwarebytes
Step 1: Download Malwarebytes > install it.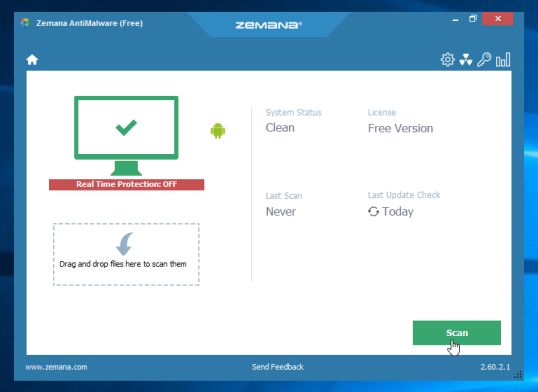 Step 2: Once installed > click on the Scan Now. Malwarebytes will now start scanning for malicious programs.
Step 3: Once done, it will display all the malware infections.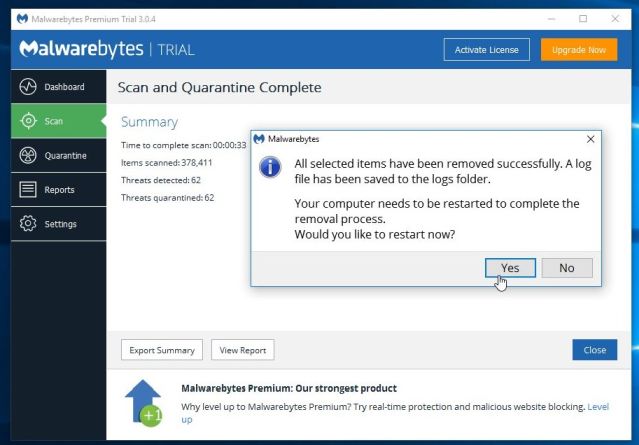 Step 4: Click on clean all and it will ask you to restart your computer. Once done, it will restart your PC and remove all infected files.
Method 4: Zemana AntiMalware
Step 1: Download Zemana AntiMalware and install it.
Step 2: Open the tool and click on Scan.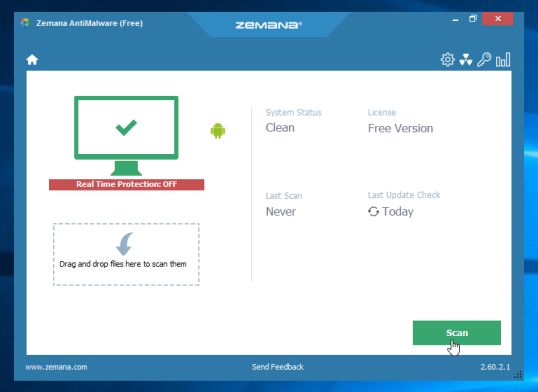 Step 3: Once done, you can check all the possible infected files. Click on Next button to remove all of them.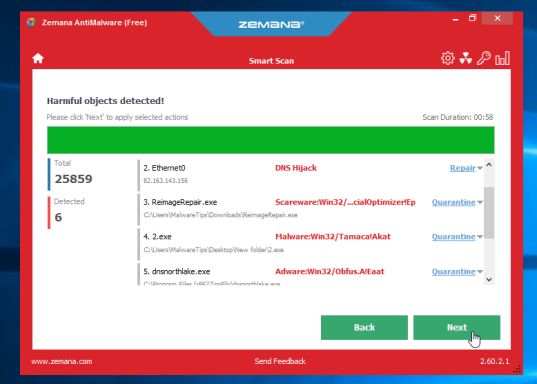 Thats't it for now. Hope you have successfully removed Svchost.exe Virus from your computer. If you liked our in depth article on How to Remove Svchost.exe Virus then comment your views.
Thanks for reading !!