Facebook is one of the largest online connecting platforms, allowing people to connect with their loved ones, friends, acquaintances and much more, only at the touch of a button. It's very difficult to imagine our life without the social networking platform.
Moreover, it has now become the one stop destination for job searching as many employers also post a plethora of job opportunities on the application. So if you wake up one day to find your beloved Facebook account disabled, it will be no less than a nightmare.
Here's where we come in. Even if your account was disabled by mistake, it only requires a couple of days' time to recover your account. Here is a walk through all the steps.
Please remember that if the account has been disabled due to behaviour not pertaining to Facebook's community guidelines, it will be very difficult to get back the account. If the user had permanently deleted their account in more than 30 days of time, it is not possible to recover the account.
How to understand that your account has been disabled?
To check whether your account has been disabled or not, you will have to open the Facebook login screen. If it displays that your account has been disabled, it is quite easy to request for access to your account. If it does not display any message and doesn't let you login to your profile, it can be quite possible that you have been put into the Facebook Jail.
This means that you have not followed the community guidelines established by Facebook and hence, have been restrained from using your account. There's no way to escape the Facebook jail, but a temporary disabling can be dealt with.
If we assume that your account has been disabled by Facebook itself, and is not a result of your doing, then you first have to assess the type of disabling. This brings us to our next subhead:
Temporary disabling
This can mainly occur when you fail to follow minor or few minor rules set by Facebook. A temporarily disabled account acts like a warning of sorts, asking you to adhere to the established set of rules and regulations. A temporarily disabled account can be recovered by submitting an account recovery form, with proper ID proof.
Permanent disabling
This is a more serious problem, caused by failure in following major Facebook rules. A permanently disabled account is impossible to recover as Facebook does not provide any form to request a recovery. In case your account is permanently banned, you have to open a new account.
Other forms of disabling
You can also temporarily disable your account from the Facebook application. In case you have temporarily disabled your account, your account can be accessed just by entering your login info.
Once you enter all the information, you'll find your account intact, in the same condition you left it behind. There's not much to worry in this case. But if you've disabled your account, you will need to login within a period of 30 days to retrieve all the information on your account.
If you miss the 30 day limit, it is impossible to retrieve your account and you will have to make a new account to get access to Facebook's features.
No matter if you disabled your own account or it got temporarily disabled by Facebook, we shall go through all the ways to retrieve your account.
Important Read:
Recover Disabled Facebook Account
Open the Facebook login homepage at https://www.facebook.com.
Enter your email address or phone number in the designated box. You can easily understand which box to enter this info in as it is already mentioned in writing in the respective box. Remember to enter the email address or phone number associated with the disabled account.
Enter your password in the designated box. In case you forget your password, you can click on the Forgot Password option. If you click on this, you will be redirected to another website where you'll be given instructions to reset your previous password.
Click on Log In. Once your password is verified and accepted, you will be logged into your account. You are one step away from enjoying the features of Facebook unrestrained.
A new prompt will be displayed on your screen. You can cancel your account deletion by selecting the Cancel Deletion option. If you click on Confirm Deletion, your account will be scheduled for deletion in 30 days. To enjoy unrestrained access, please select Cancel Deletion.
To recover an account temporarily disabled by Facebook.
There are two forms made available by Facebook to reclaim your temporarily disabled account. The first form is mainly made for people who know that they have not followed the established guidelines. The second form is for people who have a valid and specific reason and can justify their case. It has an additional field called Additional info to plead their case.
How to apply for From 1 to get your account back:
The first form can be accessed from this link:
https://www.facebook.com/help/contact/260749603972907
Once you click on the link, you'll be redirected to an account recovery form.
Enter the Email address or phone number that is associated with your disabled account.
Enter your full name in the designated box available. Please enter the name you've used on your disabled account.
Click on the 'Choose Files' option to select your ID proof. This is essential if you want to recover your account.
The files you can upload to prove your identity are:
Passport.
Birth Certificate.
Driver's License.
Marriage Certificate.
Voter's ID Card.
Tax Identification Card.
Personal or Vehicle Insurance Card.
Official Name Change Paperwork.
Green Card, Residence Permit or Immigration Papers.
The documents generally need to have your vital details such as your name, date of birth and place of residence mentioned clearly on them.
One may not happen to have the documents listed in the above list. In that case, you will need to submit two proofs from the list given under. Please make sure that the proofs have the same information mentioned.
Transit Card.
Employment Verification.
Bank Statement.
Check.
Medical Record.
School ID Card.
Contract.
Utility Bill.
Social Security Card.
Address Proof Card.
Health Insurance.
Polling Card.
Diploma.
Certification of Registration.
Professional License Card.
Membership Card.
Family Registry.
Usually Facebook takes up to one week to verify your information and give back your account. Please refrain from making multiple entries during this period as they maybe considered as spam entries and your account might not be handed to you.
How to apply for Form 2 to Recover your Facebook Account:
The second form can be accessed from this link ˅
https://www.facebook.com/help/contact/317389574998690
Click on the link to be redirected to the Facebook website containing form number 2.
Enter your full name and the email address/ phone number.
Enter your date of birth as given on your account.
You will notice an extra field given to mention any additional details that need to be mentioned. Some details to mention in this field are: 1) If you think your account was hacked and all the abusive action was performed by someone else, 2) If your account has been disabled because of multiple attempts by someone else to unlawfully enter, 3) If your full name is different from the one mentioned on your account etc.
Click on Send once you're satisfied with all the information you have entered.
If Facebook deems all the information you've entered as valid, they will communicate and let you know. Please be patient as all of this can take some time to verify.
To Conclude
All the above mentioned methods will be imperative and helpful in recovering your temporarily disabled account. It is useless to try if your account has been permanently disabled or banned by the Facebook authorities. Keeping that in mind, it is advised that you follow the set of rules and regulations laid down by Facebook to ensure that your account is safe in the future. If all the above methods fail, you can always contact the Facebook Help Center by emailing them, or consult the Facebook Help Section at https://www.facebook.com/help . We hope that you are successful in recovering your account.
Method to Recover your OLD Facebook Accounts:
If your account has been disabled by Facebook, you'll receive a notification message when you attempt to log in. Facebook deactivates accounts for the following reasons:
Continuing behavior that violates Facebook Community Standards.
Using a fake name for your profile.
Faking your identity by impersonating someone.
Posting content that shows Violence, sexually explicit content or any other vague content disapproved by Facebook.
Cyberbullying, harassing people, false advertising, etc are also grounds for your account deactivation.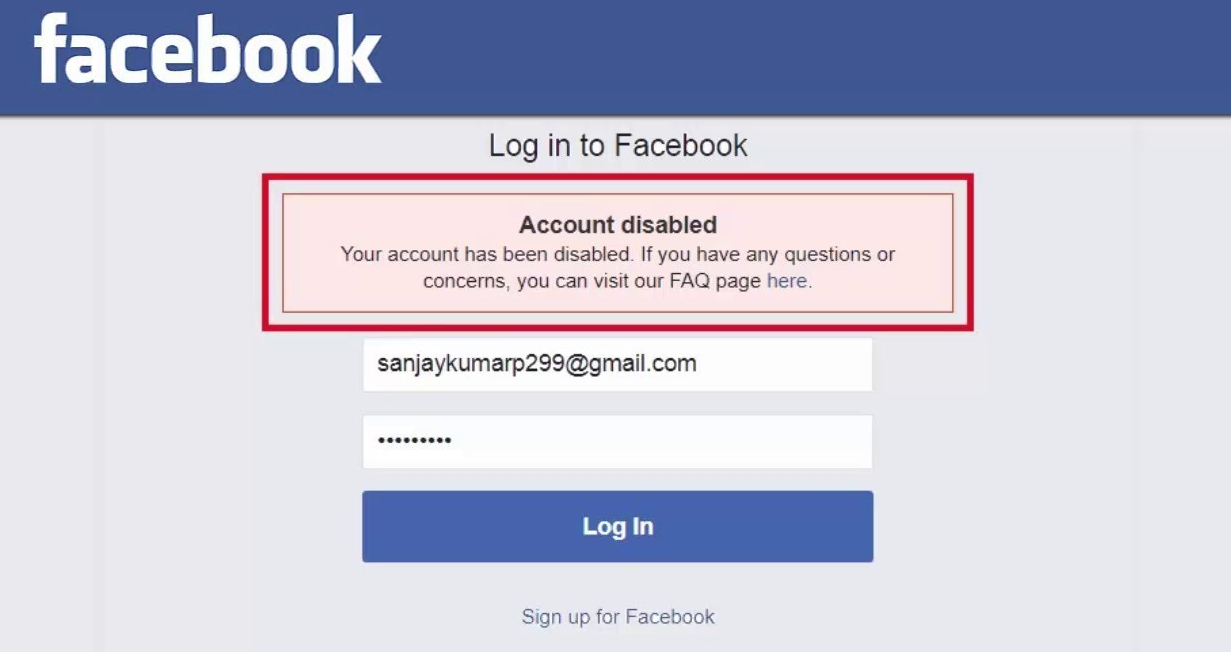 So what to do, if your account has been disabled and you want it back. Just follow the steps provided below to recover your account without hampering your Facebook data. First, try to login to your account. If it has been disabled, you'll get a message stating the same. Luckily you will find 'File an appeal' button to recover your account. Click on that button and follow the steps below:
Check if your account is still recoverable. If it has been scheduled for deletion in 14 days, then there is no way you can recover it.
If you yourself have disabled your account, simply log in using your old credentials and your account will be recovered.
Visit the link provided below. https://www.facebook.com/help/www/103873106370583/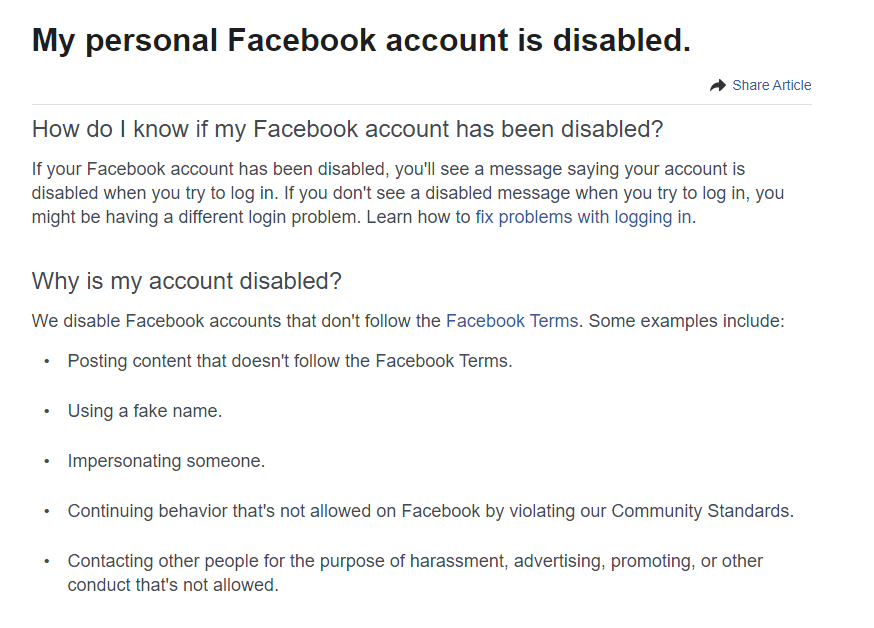 You'll find a 'Submit an appeal' button. Click on it.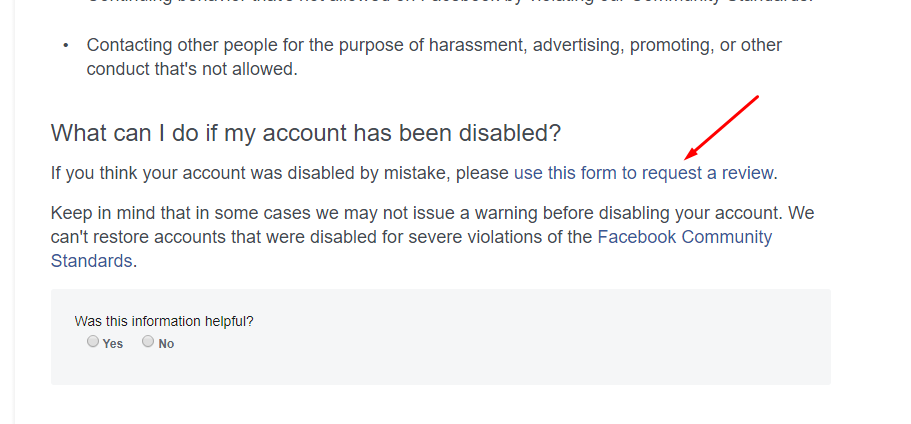 You will be asked to enter your e-mail ID, phone number, name, and to upload an ID proof to verify its a legitimate account.
In the additional information box, type in the details to the best of your knowledge about why your account got disabled.
Click on the send button and wait until your details have been verified.
It's up to Facebook to revoke deletion and reinstate your account.
All you have to do it sit back and wait.
I hope this helps to solve your problems related to your disabled accounts. To prevent these scenarios, make sure to use your account in a healthy way and follow Facebook's community guidelines and standards. Don't harass or bully people, don't post any vulgar, offensive or vague post that harms people's or community's sentiments. Make sure the people you text are the ones you know and contact people in a civilized manner. Facebook holds exclusive rights to take down any of your posts or even your account if they are found violating Facebook community standards and guidelines.