Ever since its merger with Musical.ly in August 2018, TikTok became a global phenomenon, garnering a huge online audience. With the gradual increase in active creators and audience, it is no wonder why the short video service application was declared the third fastest growing brand of 2020 by Morning Consult. There are tiktok alternatives mentioned in this list which help you get popular and share your short videos.
But with huge recognition follow controversies. Creators weren't happy with the security issues they faced on the app. For some people, the interface was straight up troublesome. Whatever be the reason, you do not have to worry your head about finding proper alternatives because we've got you covered.
As it is hard to navigate between the thousands of apps created for short videos, we have chosen the 6 best options that will attest to a good viewership and relatable content.  Here are the 6 Best Tiktok alternatives to create short videos for your social profile.
BEST TIKTOK ALTERNATIVES FOR SHORT VIDEOS
1) INSTAGRAM REELS – Trending Alternative for TikTok
Instagram recently introduced the reels feature on the official app. Though comparatively new, it unanimously outdoes most of the short video service applications. Available to download on both iOS and android devices, Instagram currently has over 1 Billion downloads on Google Play Store itself.
Users can now record 15-30 second videos of them, or just choose to post videos pertaining to various themes on the app. It is very similar to the TikTok approach, with a dedicated Reels Explore Feed and a simple algorithm.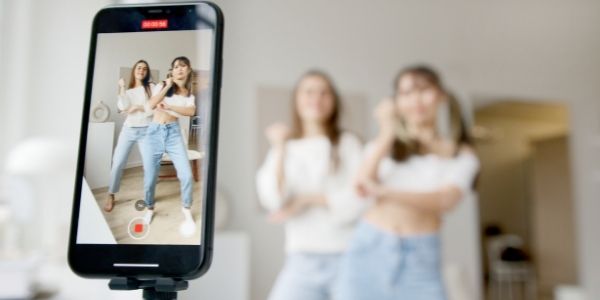 What makes the experience sweeter is a variety of user friendly tools such as audio, AR effects, Timer and Countdown, Align and Speed which provide the user with all they need to get started, all for free! The feature also uses the famous "hashtags" to consolidate and provide more engagement on content created. It is also ideal for non-creators who are just looking for an alternative app to watch short videos.
The reels you see are mostly influenced by who you already follow, what content you interact with, and your location. Therefore, it is highly unlikely for the app to show you content you're not interested in.
2) YOUTUBE SHORTS – New TikTok Alternatives
From its first launch in India on 14th September, 2020, Youtube has expanded the shorts feature and it is now available in more than 100 countries around the world. The veteran video creation site, Youtube was one among the first sites to popularize the concept of "content creation" around the world.
With more than 2 Billion monthly active users and 30 Million daily active users, it is no surprise that Youtube would include a TikTok alternative feature sooner or later. The 15 million content creators on Youtube attest to its popularity and that is why shorts was an instant hit among users.
It allows creators to post 15-60 second videos using the short creation tools that are available globally using just a smartphone and the Youtube app. Youtube provides similar user friendly tools such as a multi-segment camera, a record with music option, speed controls and a timer and countdown.
Shorts are easily accessible from the Shorts Tab at the bottom of the application window. They are also featured on your user homepage. User engagement and general popularity are what makes Youtube Shorts a viable Tiktok alternative.
3) DUBSMASH – Android App just like TikTok
Dubsmash was the one stop for content creators and viewers all around the world until Musical.ly was introduced in April 2014. The hilarious lip-sync videos brought in a fast following, making it one of the breakthrough apps of 2015.
Though TikTok has taken away a portion of Dubsmash users, the app still boasts 100 Million + downloads on the Google Play Store. Currently, the app has pulled around 27% of the U.S. short-form video market share by installs, second only to TikTok's 59%.
Keeping these statistics in mind, we can safely say that Dubsmash is still very popular as a short-form video app. Dubsmash has an average of 1 billion video views per month. It has a dedicated community of creators; the developers have also introduced an Explore page!
According to TechCrunch, Dubsmash tries to encourage a certain sense of opportunity by making Explore about discovering accounts and all the content they've made rather than specific videos. One of the key features of Dubsmash is that it doesn't track your current location or sell usage data to third parties. In this way, the community progresses ethically as a whole.
4) TRILLER.
Now that we've mentioned apps that focus more on the connectivity and viewership aspect of short video service, Triller is an application which mainly focuses on the editing. Introduced as a video editing app during its official release in 2015, the app introduced the social media aspect of it only during 2018.
Though you can still follow and watch videos on Triller, most creators use the app to edit and share videos directly on their other social media applications such as Facebook, Twitter etc. Triller claims 65 million monthly active users.
This is a gem of an app for users who are looking forward to start their influencer/ marketing careers. Triller allows the user to post short videos which can go up to 60 seconds of screen time, the default being 16 seconds.
It supports both android and iOS systems, thus making it widely available and easy to use. The average Triller user is said to spend about 22 minutes on the app. That's not very bad for a TikTok alternative right?
5) CLASH.
Started as a short video app to be a competitor and replacement for Tiktok when Trump banned TikTok in USA, Clash is one of the most flourishing short video apps out there.
It acquired the app Vine in 2020, giving it a strong backup of more than 1.3 million plus users.
Clash was founded by Brendon McNerney, who was also a former Vine star. The app is only compatible with iOS for now but the developers are planning to launch an android version very soon. It offers one of the best perspectives on creator monetization. Clash's operation is committed to helping Creators succeed in their plans of sustaining on a living that involves creating content on a full-time basis.
It is built for creators who prioritize realism, creativity and community.
Creators usually create their own authentic audios, making it different and unique from all the other short video applications.
6) FIREWORK.
Firework is a video creating app that is centered on providing businesses a platform to showcase their work.
It includes all the basic features that short videos apps contain, giving users the ability to create and share short videos on different genres such as art, education, fashion, beauty, comedy and lifestyle.
What it also includes as a coveted feature is the ability to embed all of your video clips onto your website with a specially designed web player.  Thus viewers on your business website aren't redirected to another platform to view your video.
Sounds like a plan, doesn't it?
WRAPPING UP
To sum up, we think it is safe to say that whether you like the working of TikTok or not, the apps mentioned above are all worth trying out.
Whether you're an influencer on the lookout for new applications to market your content, or you're just a person who spends way too much time on TikTok, these tiktok alternatives will definitely provide a fresh perspective. We wish everyone the content they love!