Ever wondered about what the number displayed on your Snapchat profile stands for?
Is it just an arbitrary entry or does it signify something special? We know that if something like that is present on all our profiles, it couldn't just mean nothing. So in this article, we shall discuss all there is to know about that number displayed on your Snapchat profile, also called the 'Snapchat Score'.
What is the Snapchat Score?
Since its creation, Snapchat has had this one feature to track your engagement on the app. Like all its social networking counterparts, the social networking site felt the need to include a feature to determine one's engagement on the app. Though there is no real proved helpfulness fulfilled by that number, a higher Snapchat score means a more active and loyal user.
There are many ways to increase this score and get higher numbers displayed on your Snapchat profile. But before we get into that, it is important to know what the Snapchat Score consists of.
What does the Snapchat Score consist of?
Once you click on your Snapchat Score, you'll see that it splits into two sets of numerals. The first number signifies the number of snaps you've sent on the app in total, the second number signifies the number of snaps you've received on the account. But you will find that adding up the two sets of numerals doesn't conjure your total Snapchat Score.
This is because the Snapchat Score is also dependent on a number of other things than just the number of snaps you've sent and received such as how many stories you upload, how many users you interact with, and even how other users respond with your material. The higher your Snapchat score, the greater is your engagement on the application.
Snapchat uses a special equation to determine your Snapchat Score, this equation calculates on the basis of:
The number of Snaps sent to other people.
The number of Snaps received from other people.
The number of Stories posted by the user.
Creating fresh and new content. Try not to reuse your old content.
Day-to-day interaction on the app.
There are also other things predetermined to help with your Snapchat Score but we are yet to receive information on this. Snapchat Creators have claimed that just interacting daily on the app is bound to increase your Snapchat Score!
Author's recommendation
How to find the Snapchat Score on your profile?
Even a tech layman can easily find their Snapchat Score on their profile, it is really hard to miss. But in case you need some help to look for yours, here are all the steps to find your score:
First, you need to have your own profile opened on the official app.
Click on your profile picture or the Bitmoji that is present at the top right corner.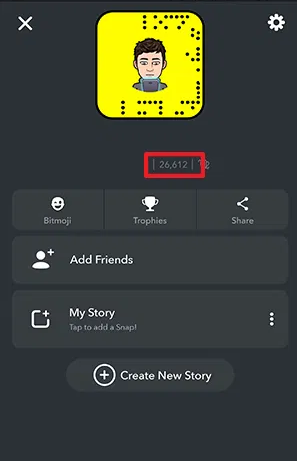 You will see your profile open up on your screen.
The Snapchat Score is present as a set of numerals right under the Bitmoji that is your profile picture, next to your set username. It is more discernable as once you tap on it, it separates into two sets of numerals.
Viola! Now you see your Snapchat Score right in front of your eyes.
How to see a friend's Snapchat Score?
Once you start adding your friends on your Snapchat, you can easily view their Snapchat Score. To keep with their growth, it is quite amusing to check each other's score. This is how you do it.
Open your profile on Snapchat and click on the conversation icon present at the bottom of the screen. It resembles a chat box illustration.
Click on the Bitmoji or profile picture of your friend whose Snapchat Score you want to view.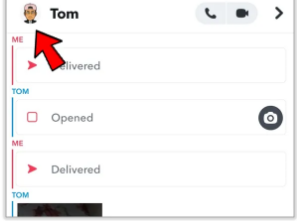 If you haven't had a conversation with the particular person, type their name in the search box to find their profile.
Once their profile opens up on your screen, you'll be able to view their Snapchat Score in the same manner, that is, right beside their username.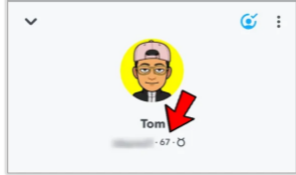 Remember, you can only view the Score of the people you're friends with. Snapchat hasn't yet included a feature to view a stranger's Snapchat Score.
Higher Snapchat Score perks
There aren't any real perks as such that come with having a high Snapchat Score. But you do get to unlock Snapchat Trophies. These are special emojis that come with the acquisition of a Snapscore milestone. Be careful as a higher Snapchat Score isn't indicative of a person's genuineness.
Ways to get a higher Score.
Along with sending and receiving snaps, there are also other ways to increase your Score.
Play Snappables.
Try out new lenses on Snapchat and also send them to your friends.
Stay updated with Snapchat Streaks.
Add more friends!
Conclusion– We have tried to encapsulate all the information we have on Snapchat Score. We hope you found what you were looking for.